When it comes to changing the appearance of your vehicle, you have a few options – you can get a brand new paint job, of course, but this is usually quite limited in terms of colour choices and how complicated your design can be, if you want more than just a solid colour.
Car wrapping is a much more detailed and versatile option, allowing almost any design to be applied to your vehicle simply by being printed on to vinyl or wrapping film, and then affixed to the contours of your car.
There are solid-colour wrapping films too, and these make it much easier to completely change the colour of your car by totally covering the existing paintwork – free from fuss, and without the delay of waiting for primers and top coats to dry.
One of the most popular and visually striking vehicle wrap effects is a complete matt black recolour – but a trend centred on the supercars and off-road vehicles of the United Arab Emirates offers almost the exact opposite effect.
Foil wrapping is another form of car wrapping, with block-colour or printed designs on flexible foil, which is then fixed over the painted surface of the vehicle – similar to applying gold leaf, but on a grand scale.
It doesn't have to be shiny, but the vibrancy of the foil finish lends itself naturally to brighter colours, including reflective metallic finishes.
These include highly polished chrome-effect silver, along with mirror-finish gold, both ostentatious effects for the sleek supercars of the UAE's sun-baked desert roads, which are increasingly seen on the streets of the UK's biggest cities too.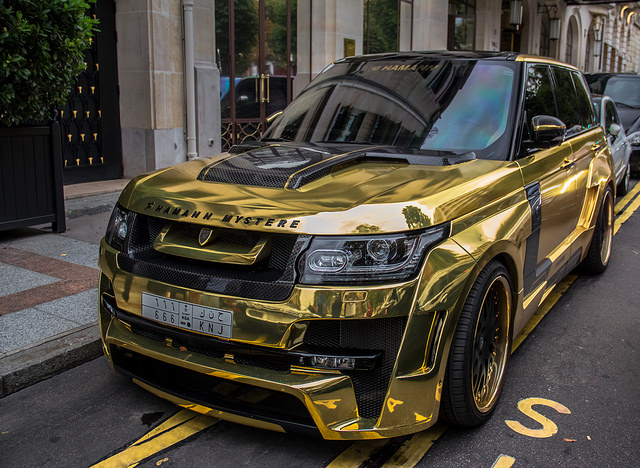 Such finishes should be chosen carefully – if they're considered too reflective for road safety, especially on sunny days, you could find yourself in trouble with your local traffic police.
With professional advice though, the right materials can be chosen for the job, allowing you to get as close as possible to the precise finish you want, without overstepping the limits set in place for the safety of yourself, other road users and pedestrians.
It's not only metallic finishes that are popular – male and female drivers alike are using foil wrapping to give their vehicle a striking patterned finish, whether that is across the entire bodywork, or simply on the roof to make a visible statement from above.
For special events, foil is also sometimes even used on the windscreen and side windows – although this usually affects the driver's view too severely to be allowed on public roads.
To see some of these polished gold or silver chrome-effect vehicles for yourself, head to the centre of the UK's big cities this summer, and take position outside the glitziest hotels you can find.
January-June is by far the busier period of the year for such vehicular makeovers, especially in the UAE itself, before the blinged-out supercars are shipped to the UK for the summer.
Once in the UK, they tour the most glamorous locations, particularly in London's five-star hotel districts, where an increasing number of spectators gather to try and photograph the latest designs, part of a truly international trend in cosmetic vehicle wrapping.