Driverless cars are one of the most exciting innovations of recent years, with the potential to transform the way we move around our towns, cities, and ultimately the entire country – but will we eventually see driverless cars in Manchester and Leeds city centres like those seen in Hollywood blockbusters like Minority Report?
The answer may very well be yes, and that movie in particular is a good indicator of how a switch to completely driverless automotive transport could be the most beneficial overall, while even just introducing a small percentage of autonomous vehicles to UK roads has also been linked with faster journeys.
In Minority Report, roads are packed with vehicles, yet traffic flows quickly and freely, without collisions, as the driverless technology is able to change lanes and avoid surrounding vehicles with much smaller gaps and reaction times than human drivers would require.
This is only part of the positive impact driverless vehicles might have, in addition to revolutionising public transport, potentially raising speed limits thanks to the increase in safety, and reducing vehicle carbon footprints by using more eco-friendly gear ratios and driving habits.
So what does all this mean for two of the major cities in the north of England? Leeds and Manchester have their similarities and differences – city centres that can be relatively difficult to drive across, with motorways surrounding the main urban centres of each.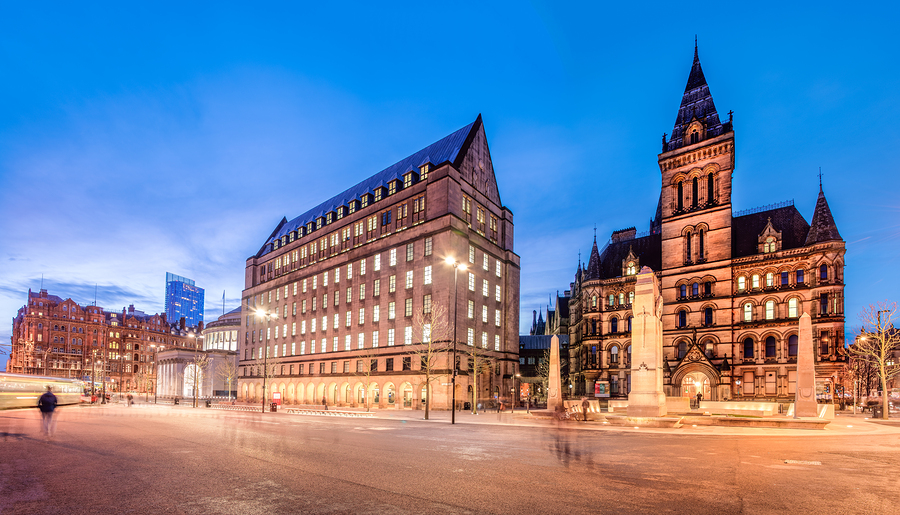 In Manchester, the M60 provides a circular route as far north as Heaton Park and south as far as Stockport, while in Leeds the M621 provides motorway access to the south of the city, with the A58(M) and A64(M) forming the inner ring road.
Manchester also has the A57(M), commonly known as the Mancunian Way, and both this and the M60 are frequently heavily congested – so does this mean driverless cars would be less effective due to heavy traffic?
In fact studies suggest that introducing even a small percentage of driverless cars on such congested urban roads can have big benefits, as research by the Department for Transport found a 21% improvement in journey time reliability and a 12% improvement in delays when adding just a small number of autonomous vehicles to a virtual model of urban traffic.
On major roads such as the motorways that surround Leeds, a higher proportion of driverless vehicles leads to an increase in performance – with a potential 40% reduction in delays and 11% reduction in journey times on 100% autonomous roads.
The technology is still in its infancy, with real-world tests in cities around the UK and elsewhere in the world only just beginning in earnest, but the initial indications are that urban settings could stand to benefit substantially, especially around cities like Manchester and Leeds where roads are heavily used.
Driverless cars even featured in the 2016 Manchester Science Festival in an event at the Museum of Science and Industry – a sure sign that one of the most innovative cities in England is ready to embrace the full potential of this exciting new technology.