The Ultimate Guide to Paint Protection Film.
At the Vehicle Wrapping Centre in Leeds we don't just install colour change and printed vehicle wraps, we are also specialist installers of paint protection film with experience applying this protection to all kinds of vehicles.
Paint Protection Film is a clear surface layer that creates a physical barrier, like an invisible coat of armour for your car's original paintwork.
If you have a custom paint job, a vinyl colour wrap you'd like to protect, or you have just bought a brand-new sports car in a sought-after original paint colour, PPF can help to safeguard your investment.
To see some examples of VWC's work on paint protection wraps, take a look at our portfolio and select 'Paint Protection Film' from the dropdown filters.
And to learn more about this useful layer of defence for your car's bodywork, we've answered some of the most common questions in the rest of this Ultimate Guide to Paint Protection Film.
How does paint protection film work?
Paint protection film is known by a variety of different names, including:
Clear bra
Clear film
Helicopter tape
PPF
Vehicle paint protection film
The name 'clear bra' dates back to the origins of vehicle paint protection, when physical barriers like armoured front bumpers were designed to protect against chips and scratches to the front body panels during road testing of new cars.
Because of the distinctive shape of these additional panels strapped to the front of the car, they were named 'bras', a term coined by California auto-shop owner Bill Colgan.
Meanwhile, the name 'helicopter tape' comes from the military origins of paint protection film, which was developed by 3M for the US military to protect helicopter blades against shrapnel damage during the Vietnam War.
Soon it became apparent that the benefits of PPF – not only vehicle paint protection, but also the lower cost and ease of replacing paint protection film rather than repairing or repainting the vehicle itself – applied to cars just as much as to helicopters.
The rest, as they say, is history, and soon protective film for cars became a popular way to prevent damage to paintwork by adding a sacrificial layer that can take minor scrapes, scratches and chips.
PPF continues to work in much the same way that it always has, creating an extra level of car body protection that can be replaced if it becomes damaged, without exposing the original paintwork to the rigours of regular track or road use.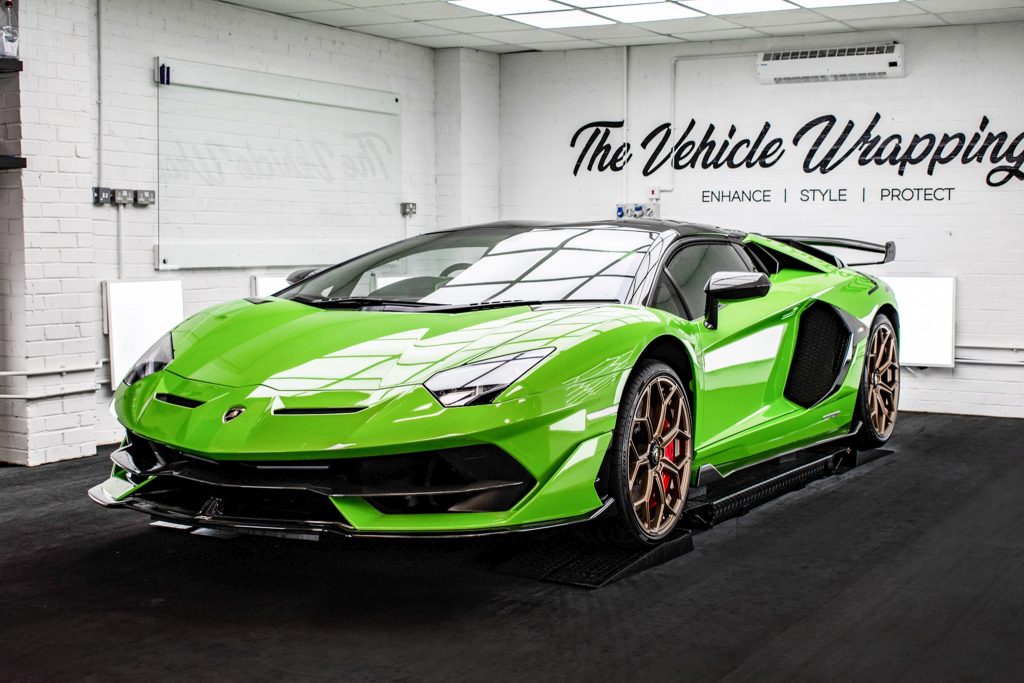 What films does the Vehicle Wrapping Centre use for paint protection?
We carefully choose the best vehicle paint protection films from major manufacturers so you have total peace of mind that your paintwork will be protected against common road damage.
Some of the protective paint films we use include:
Avery Dennison
Bodyfence PPF
SunTek PPF
If you'd like to know more about any of the PPF films we use and why we trust our chosen manufacturers, contact The Vehicle Wrapping Centre in Leeds and we'll be happy to help.
What is the Difference Between PPF and Vinyl?
There are a few differences between PPF and Vinyl wraps:
Vinyl wraps are usually used to change the appearance of the vehicle
PPF wraps are usually clear and protect paint without changing its colour
In addition, vinyl wraps are often used to change the colour of the whole vehicle or to add a printed design, such as contact details on a commercial vehicle.
PPF can be used on the whole vehicle, but sometimes customers opt to have it added only to the front of the car, as this is most likely to be hit by grit and other debris kicked up from the road surface.
It's also worth remembering that PPF is designed to take damage. Whereas a visible vinyl wrap aims to stay in good condition for as long as possible, a paint protection wrap is sacrificial and should be replaced when appropriate if it gets chipped or scratched.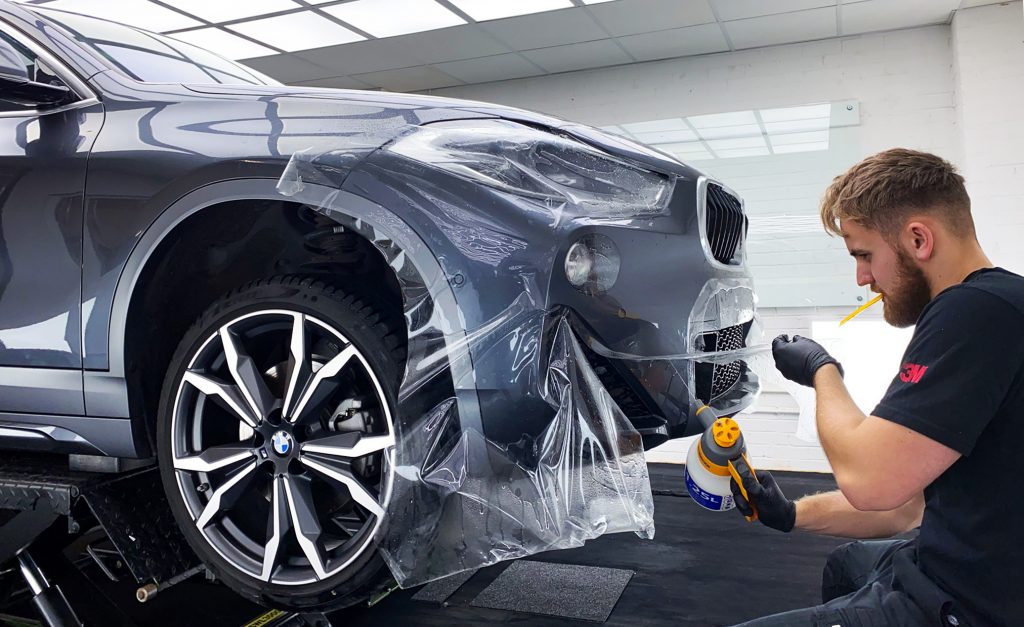 How long does it take to apply paint protection film?
We take care when installing PPF so that every customer gets the best possible results – and although that takes a little time, you won't be without your car for very long.
After an initial inspection of your vehicle's current paintwork, we'll give it a careful wash and can then arrange restoration work to reduce the appearance of paint swirls and light scratches.
The surfaces are then prepared and the vehicle protection film applied, before it is left in our carefully controlled workshop environment to dry out over 1-2 days.
Finally, we give your newly installed paint protection layer a clean and arrange a handover of the vehicle back to you so you can drive it away.
All in all, the work requires a few days – including the 48-hour curing time once the PPF is installed – but we will make sure to return your car to you as soon as it's ready, and at a time that is convenient for you to collect it.
What does paint protection film protect my car from?
Paint protection film is an extra barrier against some of the most common types of damage to car paintwork:
Light scratches, chipped paint and other exposure to grit and road debris
Sunlight exposure and UV fading (especially if regularly parked outside)
Visible swirls and dull paint due to abrasive cleaning over time
It will not protect against physical damage to the bodywork and panels, for example larger dents and crumpled corners following a collision, but it should provide a defence against aesthetic damage that would ordinarily affect the surface of the paintwork.
This is particularly beneficial on sports cars and supercars, for a number of reasons. The original paint job – especially in certain original manufacturer colours – can contribute substantially to the resale value of the vehicle.
And because sports cars tend to have wider front wings, arches, and often have body-coloured bumpers, PPF for the front of the vehicle can be an effective way to stop minor damage from occurring when driving at high speeds on the track.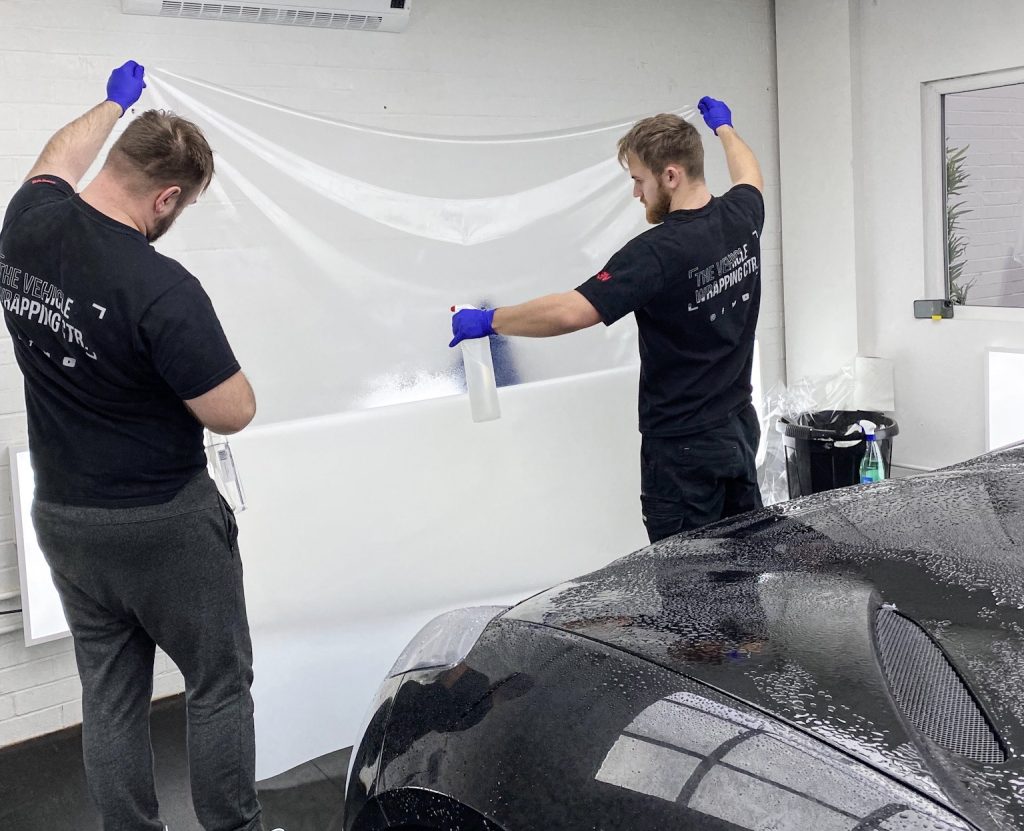 Can you remove paint protection film?
Yes – in fact, that's the whole point of PPF. The best vehicle paint protection films can be removed by professionals without damaging the paintwork underneath.
The Vehicle Wrapping Centre Leeds team can remove existing PPF from your vehicle if it has become visibly damaged, before adding a new layer of fresh film.
Alternatively, if you just want old PPF removed by professionals because you plan to sell your car and want to expose the pristine paintwork underneath, get in touch and we should be able to help.
Modern PPF from the best manufacturers is easier to remove with less risk to the original paint beneath it, which is why we choose the brands of film we use very carefully.
By sticking to these reliable manufacturers, we can make sure all our customers receive the best paint protection film brands, so you can have confidence when it comes to getting your PPF removed in several years' time.
Is paint protection for cars worth it?
In short, yes. If your car's bodywork becomes damaged due to minor scratches and chips, it will almost always be cheaper to replace car body protection film than it would be to pay for a new paint job.
This is the reason why PPF was invented in the first place – to reduce the cost of repairing minor damage, and to prevent it from occurring where possible.
Paint protection film has been in use in one form or another for half a century, which is testament to its value and enduring appeal for vehicle owners.
The best vehicle paint protection films are affordable and effective, and will not alter the appearance of your car in a noticeable way – so you still get to enjoy the original paint job in the meantime.
When visible damage occurs, just contact us and we can book your vehicle in to remove the damaged PPF and replace it with a new outer layer, leaving it looking as good as new.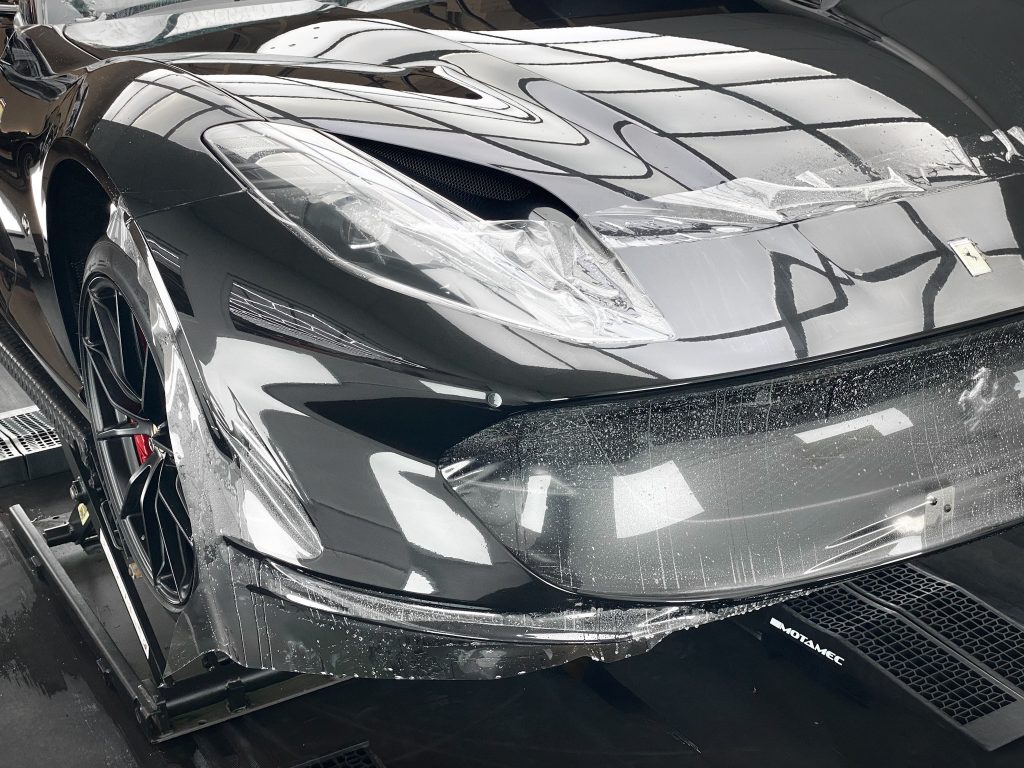 What are coloured and textured paint protection films?
Recently, The Vehicle Wrapping Centre partnered with STEK Automotive, the company that developed the world's first coloured paint protection film.
STEK's unique product offers a single layer of coloured protection while providing the same high-quality features as traditional paint protection films.
What's more, the company also supplies textured PPFs in the form of matte, gloss, and pearl.
The films are also resistant to stains, chemicals, and contamination, while the self-healing elastomeric polymers work to eliminate swirls and scratches.
How to book paint protection for your car
To book a PPF installation for your car, visit our Paint Protection Film page and request a quote. Our simple online contact form covers all the essential details so we can start to decide exactly what your vehicle needs.
Once you send your enquiry, a member of the VWC team will get back to you within 48 hours with a quote by telephone or email.
You'll need to get your vehicle to our premises for the work to be carried out, so please let us know if you'd like us to arrange collection and delivery, or if you can get here yourself.
We can include PPF with our vehicle vinyl wrapping services – so if you're having a custom design applied to your car or van, you should consider having protective paint film added to it too.
Finally, we offer a range of finance options from Ideal4Finance, to make vinyl vehicle wraps and paint protection film affordable to all budgets.
To find out more, request a quote or ask us anything we haven't covered in this guide, please contact The Vehicle Wrapping Centre in Leeds today.