The Ultimate Alloy Wheel Guide.
If you've only seen our vinyl vehicle bodywork wraps, you might not expect The Vehicle Wrapping Centre to have an alloy wheel care guide. But we design and install alloy wheels, including custom alloys.
We also repair broken alloy wheels and remove rust from alloys. We can even vinyl wrap alloy wheels if you want to change their appearance.
Once you drive away, we want your wheels to look at their very best for as long as humanly possible.
That's why we've put together this ultimate alloy care guide to cover some of the questions we get asked most often, and to give you some insight into our services to install, repair and generally care for alloy wheels.
Why choose alloy wheels?
Alloys add value to your vehicle in lots of different ways. The most obvious is their aesthetic value – alloy wheels look great whether they're spinning or stationary. They also add monetary value to your car, as alloys are a must-have for many motorists and a 'would like to have' for many more.
There are other potential benefits too. Alloy wheels can be more resistant to rust and corrosion. They are lighter, which can improve fuel efficiency and handling. They can also be stronger than traditional steel wheels.
Finally, there are customisation options, ranging from the choice of aluminium or chrome rims, to the shape of the alloys, to more specific design details that can be applied using a vinyl wheel wrap.
Do alloy wheels affect my car insurance?
If your vehicle comes with alloy wheels as standard, this should already be factored into your insurance premium. But if you replace your tyres with alloy wheels partway through your insurance term, or you get custom alloys fitted to your existing wheels, you should notify your insurer just in case.
Alloy wheels add value to your vehicle, and while that's a good thing, to insurers it means more risk and potentially a bigger payout if your car is stolen or damaged.
From a purely admin point of view, it's essential to give your insurer an accurate description of your vehicle, including any modifications you make to it, so that you don't run the risk of invalidating your cover and having any future claim rejected completely.
Can I buy custom alloy wheels?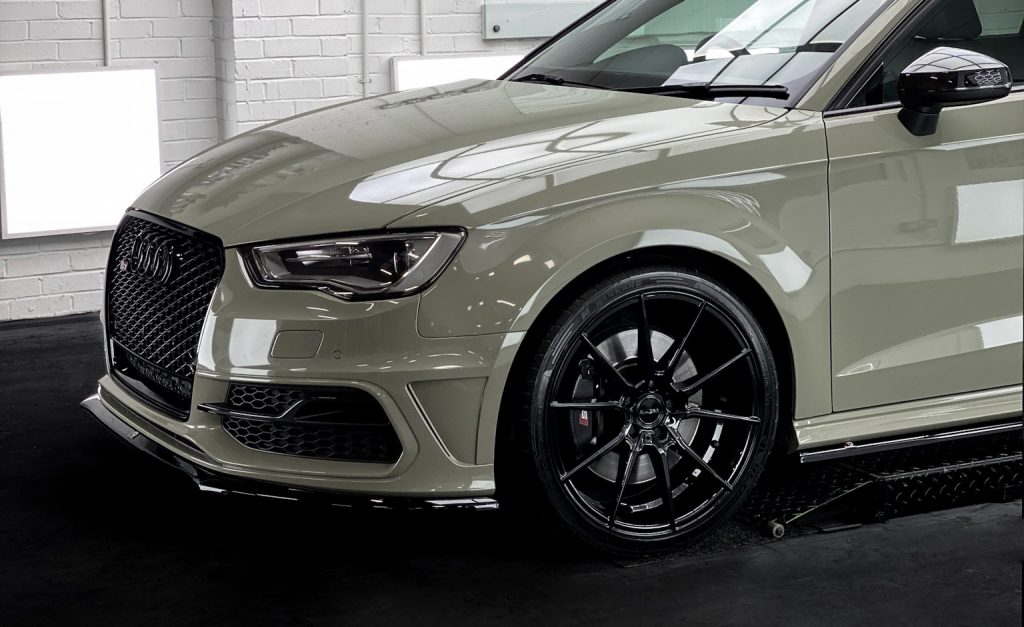 Yes – The VWC fit custom alloy wheels on a regular basis for our customers. Just like a vinyl vehicle wrap, custom alloy wheels are a way to make your car truly unique and express your own personality, or to add some colour to a part of the car that's normally silver.
We welcome all enquiries in this area, whether you want something sleek and simple, or you have an idea for some really original alloys.
If it's possible to achieve what you want, we'll use our expertise and cutting-edge technologies to make it come true. If we don't think your design will work, we'll let you know, and can work with you to adjust it so you get alloy wheels that will look great for a long time to come.
Can alloy wheels be wrapped?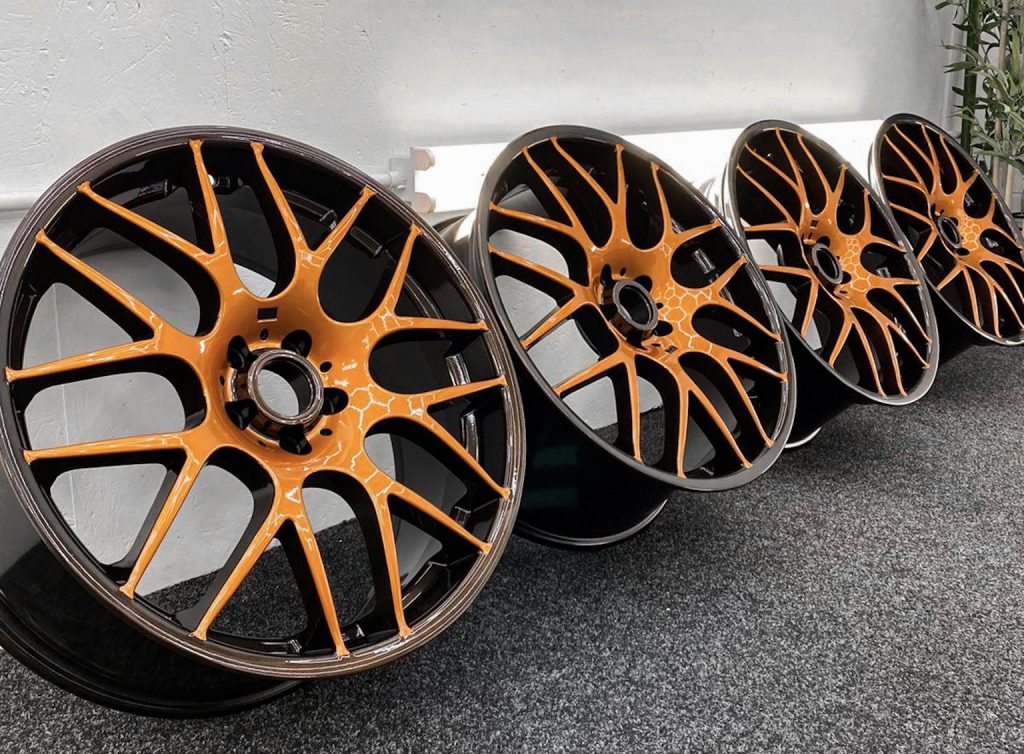 If you want to add colour to new custom alloy wheels or you want to change the look of existing alloys, vinyl alloy wheel wraps are an option however only alloy wheels with a flat 'face' can be wrapped, curved or complex alloys will not be possible.
They're more complicated than a vehicle wrap, because of the intricacies of wrapping alloys neatly, but the effects are well worth it. Again, The VWC can design, print and install your vinyl alloy wrap to the highest of professional standards.
Vinyl wraps are an excellent option to change the look of original manufacturer alloys, as they cause no permanent change to the wheel itself.
The vinyl is simply stuck on as an extra top layer, neatly wrapped around the alloy, and can be removed with no damage at a later date, for example if you change your mind about the design, or if you want to restore the car to its original factory spec to sell it on.
Additionally, you can also have your rims coated using ceramic coatings, which provides additional protection against everyday life. Find out more about ceramic coating.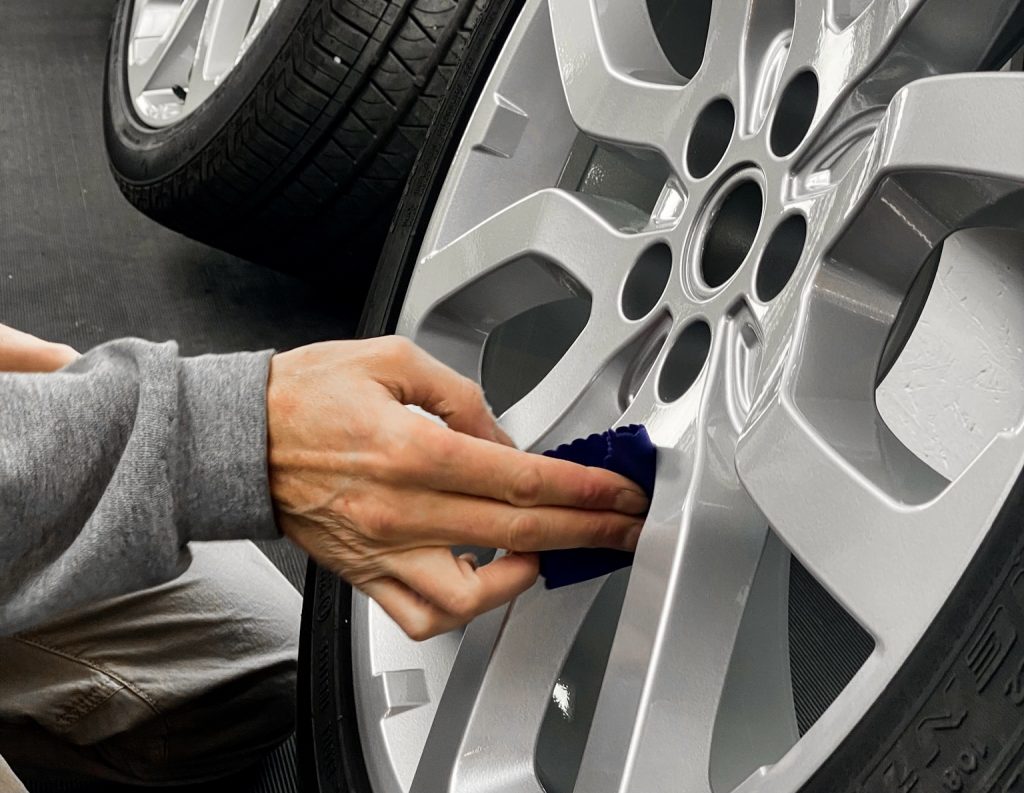 Can I insure my alloy wheels?
Separate alloy wheel insurance exists and is worth considering, especially if you have spent a good amount of money on custom alloy wheels.
There are reasons to get dedicated alloy wheel insurance even if you have already paid more on your car insurance premiums.
That's because if your alloys are damaged and you claim on your normal car insurance, you'll be subject to your standard excess and your renewal premiums will probably go up too.
Custom alloy wheel insurance policies cost less and have a smaller excess, to allow for smaller claims to cover just the cost of repairing or replacing the alloys.
How do I clean alloy rims?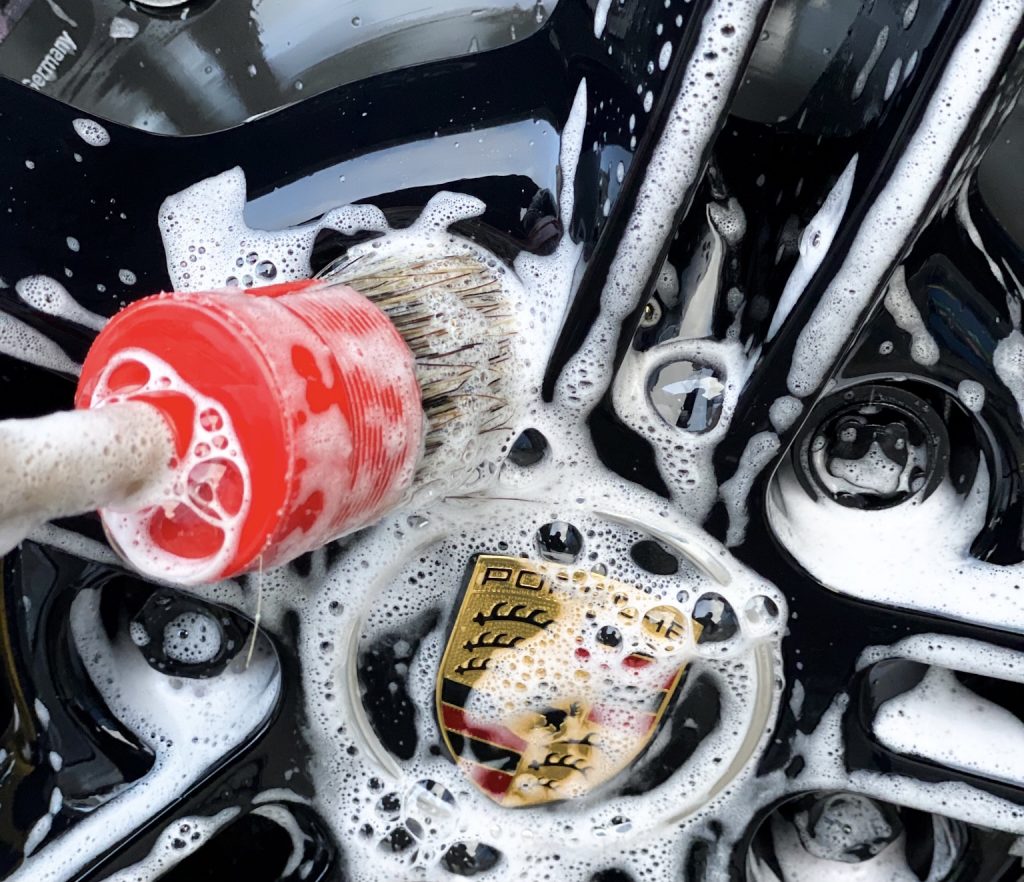 The best way to clean alloy wheels is to use a good quality, pH neutral cleaner that will not damage the polished surface of the rims.
The VWC stocks and supplies Gyeon car care products and we're always happy to recommend the best cleaning product for alloy wheel cleaning based on factors like the type of alloy wheel you have (e.g. aluminium or chrome), any surface finishes like wax, polish or lacquer, and whether you have vinyl wrapped alloy wheels.
One useful top tip for how to clean alloy rims is to use a product you can dilute down – Gyeon car cleaners can be mixed with warm water to make them even easier to use.
This helps them to act as a lubricant for even smoother cleaning, preserving the shine of your alloy rims for longer, and also makes them easier to rinse off so no dried product is left behind once you're finished.
How do I polish alloy wheels?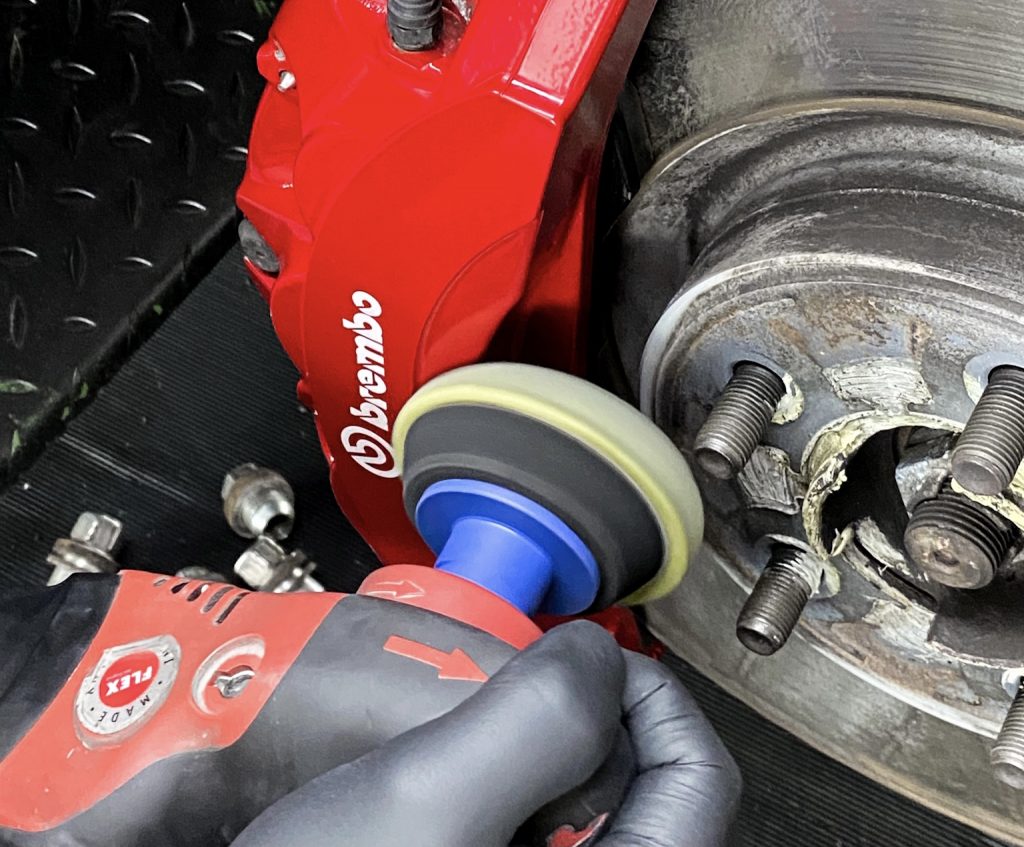 Some of the recommendations above are also good tips for how to polish alloy wheels. Use an appropriate product and make sure your wheels are clean to start with.
That means removing any larger surface dirt, then washing away the finer deposits and smudges with a good alloy wheel cleaning product. If you notice rust or brake dust deposits, check below for our quick guide on how to remove rust from alloy wheels.
Alloy wheel polish is usually applied after cleaning, once the wheels have fully dried. There are several products to choose from: alloy wheel brightener, alloy polish and finally a finishing polish for an even shinier surface.
Polishing is not really about cleaning, but is more about eliminating microscopic scuffs and scratches for a glassy-smooth, reflective surface that will gleam in direct light.
How can I remove rust from alloy wheels?
We're often asked how to remove rust from alloy wheels, but first you need to know what you're looking for. Rust or corrosion on alloys might not look as you'd expect – instead of a reddish-brown colour, it can appear white due to the chemical reaction with the alloy itself.
Small corrosive deposits can be removed with fine steel wool (being careful not to scratch the alloy) before the wheel is cleaned and polished as described above, and then sealed with a suitable protective wax. If in doubt, call the VWC team and let us handle it for you.
As well as removing rust from alloy wheels, it's good to regularly remove brake dust and ferrous contaminants – deposits of tiny fragments of iron that can accelerate corrosion and cause surfaces to appear rough and dull.
Gyeon Q2M Iron is an excellent, efficient and fast-acting iron remover that's safe to use on polished rims. Apply before the initial wash, avoiding direct sunlight, to quickly lift away those stubborn ferrous deposits.
How can I repair alloy wheels?
A broken alloy wheel is a tragedy, but it's not a lost cause. The VWC's expert team know how to repair alloy wheels to get them looking as good as new once again.
Older alloys often suffer from surface damage, including long-term wear and tear, as well as one-off scratches and scuffs around the perimeter of the rim.
One of the most common causes of visible damage is kerbed alloy wheels, where the alloy has scraped along the edge of a raised kerb, and it takes expertise to fix kerbed alloys.
You can get home repair kits for alloy wheels, which involve smoothing out the scuff marks with putty or filler, sanding it down and then respraying with a metallic paint.
Unless you're a keen sculptor or modelmaker in your spare time, you're not likely to get a good finish doing it yourself. If you have attempted a home alloy wheel repair and it's not gone well, get in touch with the VWC team and we can put it right.
Can I fit my own alloy wheels?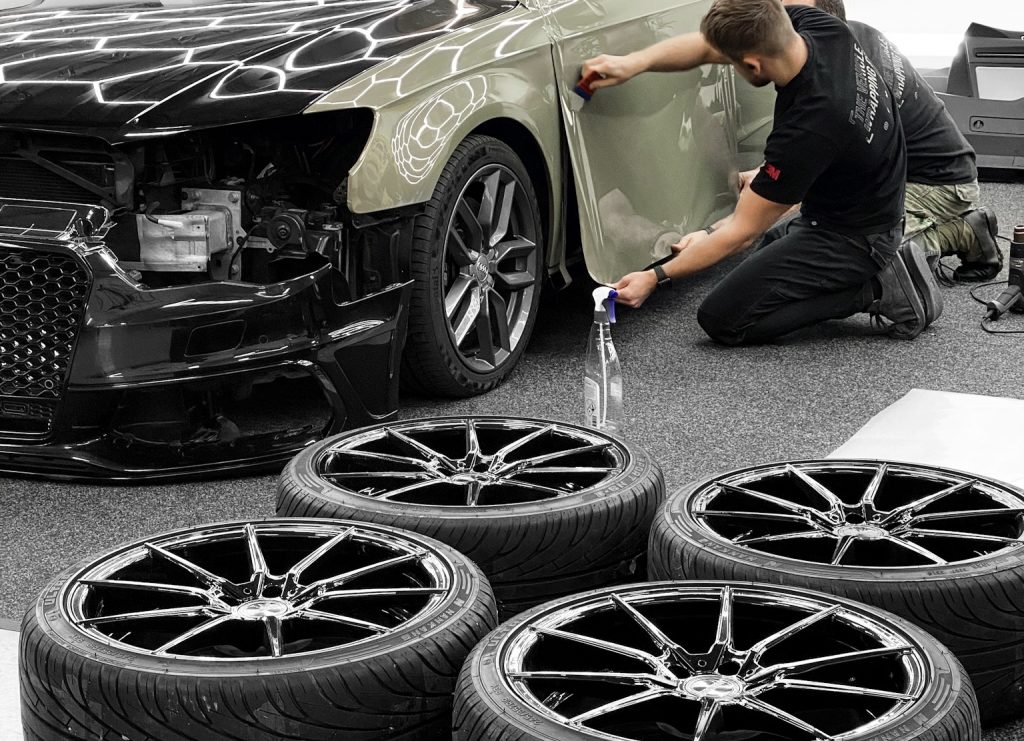 If you feel confident working with wheels, including the tyres, rims and alloys, then you can fit your own alloy wheels. But you don't have to, because our engineers at The Vehicle Wrapping Centre can install alloy wheels for you.
It's quick, convenient, and protects the value you're adding to your vehicle by investing in aftermarket alloy wheels or custom rims.
By having your alloy wheels professionally fitted, you can be confident that the wheels are secured in place correctly – no nasty surprises once you drive away!
More than that, you also know that your alloys will not be damaged or scratched during installation, so you get the best possible aesthetic effect whether you opt for classic silver alloys or coloured rims.
If you have any questions about alloy wheels, or would like to enquire about custom alloy wheels from the VWC, get in touch with a member of the team.
Alternatively, if you're interested in one of our finance options, check out our finance page.