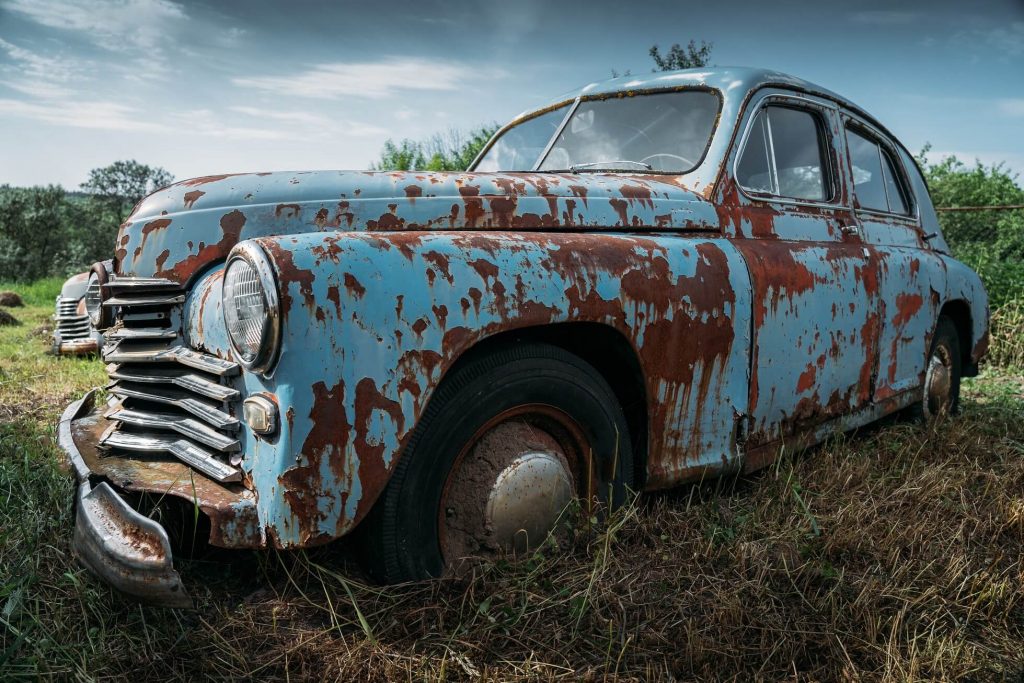 Nothing lasts forever. Many of us get sentimental about our cars, but there comes a time for many of us (particularly older vehicle owners) when the cost of keeping it on the road doesn't add up.
The journey has reached a dead end, with a one-way trip to the scrapyard looming. But how do you go about scrapping your car, and what steps do you need to take to stay on the right side of the law and give your wheels the send-off they deserve?
How many cars are scrapped each year in the UK?
An estimated one million cars are taken off the roads and sent to scrap yearly, generating millions of tons of waste and recycling. This is the highest in Europe — approximately 85% of these cars are recycled into new metal, and the rest are reused for parts or disposed of.
When is it time to scrap your car?
The hardest part of owning a car for a few years is deciding when it's finally time for the car to be scrapped. Things to consider before scrapping your vehicle are the car's performance, breakdown history, and if it costs you more in repairs than it does in fuel. On top of this, keep an eye on the mileage.
While some vehicles can conk out at 60,000 miles, other engines can still run smoothly well past the six-figure mark. Regardless, the value of your car decreases as you rack up more miles. If your vehicle has clocked up 100,000 miles or more and is showing frailties elsewhere, it's likely to be destined for the scrap heap.
Usually, when your car needs to be scrapped, you will get tell-tale signs that it's in its final year or months. The average life span of a car is around 10-12 years, and if your car is much older and has exceeded 100,000 miles, it's probably time to think about scrapping and replacing it.
If you spend a fortune on repairs and spend more money on repairing problems than you do putting fuel in, consider scrapping your vehicle. Spending lots of money on a car that constantly breaks down, doesn't pass its MOT, and constantly needs repairing is not worth the hassle.
Roadworthy cars are suitable for scrap, as are damaged cars with no MOT. Car owners who want to scrap their car for money can obtain a quotation (usually free of charge) from a local dealer.
What happens to scrap cars?
If you are curious about scrapping your car, these are the steps which scrap dealers follow to ensure your vehicle is safely destroyed. You should only scrap your car at an Authorised Treatment Facility (ATF) as they have the skills to recycle your vehicle correctly. Remember, it's illegal in the UK to scrap your car anywhere else due to the hazardous materials involved with cars.
The car scrapping process
Scrapping a car is a simple process, but there are some guidelines you need to abide by. The car must be stripped, sorted, recycled, and crushed, while you and the dealership must complete the paperwork to the correct standard.
The depollution process
The first step when your car is sent to be scrapped is the depollution process. This process occurs when hazardous materials, such as car batteries are removed. Due to the nature of the battery, it contains acid, which can cause blindness and lead poisoning.
The fuel tank will need removing as any flammable liquid (petrol and diesel) traces are highly dangerous. Seat belt pretensioners contain pyrotechnic charges and are taken out of the scrap car for safety. Car airbags are also unsafe as they could explode, which is caused by the chemicals they contain.
Disposing of fluids safely
Once the depollution process has occurred, the remaining fluids must be disposed of correctly. This includes any remaining coolants, oil, and anti-freeze that can contaminate soil or water suppliers if not dealt with correctly.
Disposing of the fluids safely also includes the car parts that encounter these fluids and pollutants or contain them. The facility must safely dismantle parts from your car's catalytic converter to its oil cap.
Recycling your tyres
Recycling your tyres is easy. However, the facility needs to consider that there is a legal limit on how many tyres can be on one site at a time. This law is because tyres can burn at an extremely high temperature if there is a fire and pose a serious threat to life.
Crushing
Finally, once everything harmful and hazardous is removed, your car is ready to be safely crushed. All the individual parts are separated by materials classification, including metal, fibre, and plastic, and then fully recycled into something else.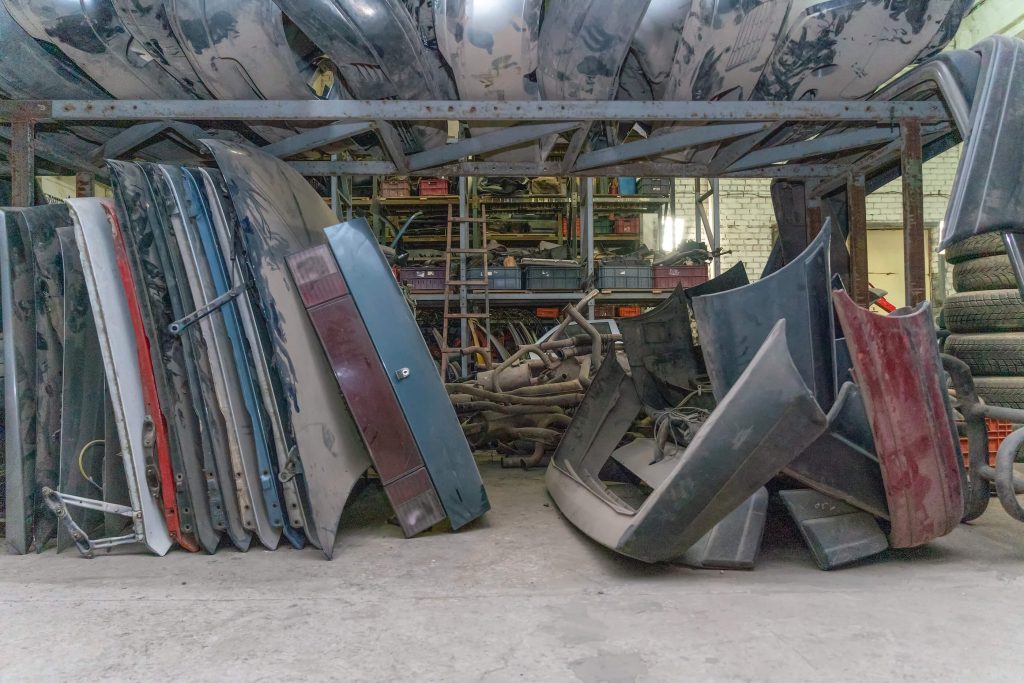 Certificate of Destruction and informing the DVLA
Finally, within seven days of scrapping your car, the ATF will send an official COD (certificate of destruction) confirming that your vehicle has been disposed of. You should retain this for your records.
Just before you hand your V5 logbook into the scrapyard, remove the slip from the yellow section of your V5, as this confirms the car has been scrapped. You then need to post it to the DVLA.
If you do not have the V5, you must write directly to the DVLA, providing your name, address, and ATF location. Include the exact date of the transaction, along with the vehicle reg, make, and model. Ensure you double-check the application before sending it to see if any details are incorrect or missing. Mistakes can mean your application is rejected, meaning you will still be registered as the keeper of a vehicle deemed roadworthy.
Where can I scrap my car?
If you are still determining where to scrap your car, a quick google search will show you suitable locations for car scrapping. You should always call them and obtain a few quotes before committing to anything. Find out how much you will receive for your scrap vehicle, compare the prices offered, and then choose the best place to drop your car off or arrange a collection.
Remember, if your car is unsafe, uninsured, or untaxed, under no circumstances should you drive it to the scrap yard, as this will be illegal.
What happens if you don't report your car as scrap?
If you don't update the DVLA on the scrapped status of your car, you could receive a fine of £1,000. This is because the DVLA is responsible for maintaining an up-to-date database of all drivers and vehicles currently on the road in Great Britain. If you are scrapping a car, the DVLA must be notified.
What documents do I need to scrap my car?
The documents you need include the car's VC5 (proves you are the owner of the vehicle), photo ID, proof of your address and another form of ID. If you'd like to keep your licence plate, you need to apply to do so before you scrap your car, but remember retaining your license plate carries a fee of £80.
If you have the V5 registration document, give this to the ATF but retain the yellow section labelled 'sell transfer' and send it over to the DVLA. If you don't have the logbook to hand anymore, write to the DVLA and inform them the car has been scrapped. Essential information to include is your car's reg, model, and make. Include the name and address of the ATF and state the date the vehicle was scrapped.
How much is my car worth scrap?
The car's worth depends on multiple factors, such as the make, size, and model. Car manufacturers produce different sizes of vehicles, which affects the amount of metal used. For example, a Range Rover being scrapped would be different to a Peugeot 107 as they are different-sized vehicles.
Payment for scrap cars
When accepting payment for your scrapped vehicle, it's important to be aware that you should never take cash from a scrap dealer. The Scrap Metal Dealers Act 2013 made cash payments for scrap cars illegal in both England and Wales. This joint effort aims to reduce car crime and prohibit the activities of unscrupulous scrap dealers by only accepting payment via bank transfer or cheque.
How long does it take to scrap a car?
Scrapping a vehicle can be far quicker than putting it up for sale. It takes a matter of minutes online to arrange for your vehicle to be scrapped at an ATF. Depending on how busy the scrap yard is, you may be able to get them to pick up your vehicle in a couple of days.
After your vehicle has been scrapped, you'll be sent official documentation proving it's been disposed of, called a Certificate of Destruction (COD). This will be sent to you within seven days from the date your car was scrapped. You'll then need to complete the following steps:
1. Securing a quote
Contact some of your local car scrap yards and ask for a quote, so you can choose the best option.
2. Waiting for collection
This will typically take one to three days, depending on how busy the scrap dealers are and when it suits you. The condition of your vehicle and if it can be driven or needs collecting will also need to be taken into account
3. Preparing your car for scrap
Check your car and ensure you haven't left anything you want to keep, like chargers, logbooks, decorative items, etc. This may take longer than five minutes but don't worry about giving your car a mini valet, as it will be stripped and crushed
4. Collection of your car
Collection of your car will usually take 5-10 minutes, although timings can differ depending on the condition of your vehicle. If the vehicle is not road safe, has missing wheels, or is hard to access, this can take more time
5. Receive payment
Step five is where you turn rot into riches — the payment. As discussed earlier, the money must be paid directly into your bank account or via a cheque as per the Scrap Metal Dealers Act 2013.
6. Certificate of Destruction
Once your car has been collected, you wait for your Certificate of Destruction (COD) to come through, which proves the vehicle has been drained, de-polluted, dismantled, recycled, and crushed. Depending on the ATF's timetable, they will take the vehicle to the scrap yard that day, and the process begins shortly after. You should receive your COD within seven working days.
Who can scrap my car?
Only places that are registered as Authorised Treatment Facilities (ATFs) can scrap your car. This is due to the highly hazardous waste that comes from your car. Fuel, battery acid. etc., must be cautiously removed and disposed of correctly.
Top tips for scrapping your car
The value of scrap metal changes frequently and is very similar to fuel in terms of fluctuating prices. This makes it easier to predict the right time to scrap your car if you are an expert in the market. To get the best price, gather as many quotes as you can.
Scrapping your car at an ATF close to your location can be extremely beneficial for paying out when collecting your vehicle. The less ground they cover to collect, the better your payout.
Always get a guaranteed quote from your chosen scrap dealer, as this will prevent any unforeseen deductions later and disappointment with your total payment.
Another thing to consider is why you are scrapping your car. If it doesn't cost much to repair and you are just looking for a change, consider car wrapping. Give your vehicle a sleek makeover and personalise it to reflect you.