When it comes to enjoying a car, sometimes you need a change without being too drastic or expensive, and car wrapping can help breathe new life into your wheels!
The wrap can be a protective overlay with a different colour,or bespoke design using a range of colours instead of a solid block colour. Don't forget, alongside the colour change, vehicle wrapping also adds a shiny gloss or smooth matte finish, depending on your choice.
Car wrapping should be done professionally by a trained technician to ensure you achieve the best results and avoid any bubbles or wrinkles in your wrap. Car wrapping also protects your car's original paintwork from any light scratches and chips, which can increase the car's value.
What colours can you wrap a car?
Vinyl car wrapping is increasingly popular in the UK as it's an affordable and temporary way to modify your car. You can wrap your car in any colour you wish as long as you aren't impersonating a UK police car.
Before making any changes to your vehicle, remember to notify the DVLA of any colour change. Legally you must notify the DVLA as car wraps are a permanent change to your vehicle.
The DVLA requires every vehicle owner to report the modification, as police and law enforcement rely on the DVLA to provide vehicle information during investigations. This vital information includes the make, model, and colour.
In the unlikely event your car goes missing or is stolen, the DVLA will use the information on file to send a police alert. It isn't helpful if they send out an alert for a white vehicle when your car is wrapped in glossy orange.
Another factor to consider is you must notify your insurance company to ensure your cosmetic changes are accepted. If you change this without notifying your insurance company, it may make your policy void.
Why is your car wrap colour important?
The car wrap colours you choose are essential as they can complement your vehicle in multiple ways and are personalised. Personalise your wrap in a way that you know will make you happy, and don't forget you aren't limited to one colour when you wrap your car.
You can choose from many different patterns, bespoke designs, and styles in various colours. If you're tired of driving a car that looks like all the other cars, instead of changing your car completely, you can change your vehicle's appearance in a way that suits you.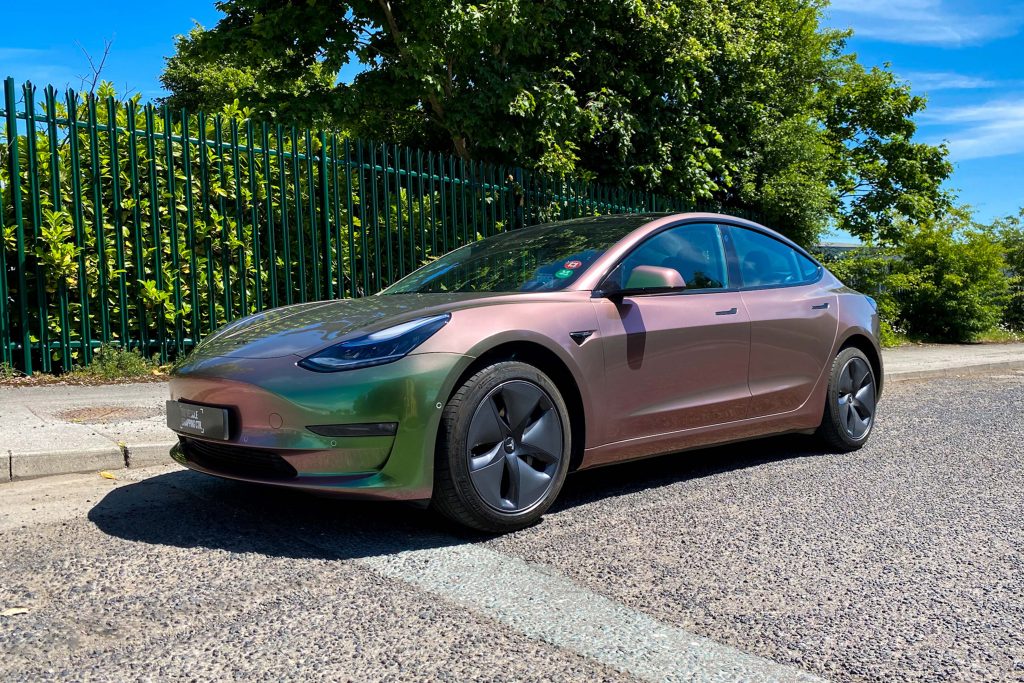 What your car colour says about you
The great thing about colour is it speaks without letters or words. Modifications and colours you apply to your car can reflect things about you and your personality.
Colour psychology means colour gives a different feeling or meaning, so you may want to study what the colour says about you before you choose your wrap colour.
Silver – Suggests calmness and confidence with driving.
Blue – This is a colour of stability and safety that suggests you heed caution.
Black – Suggests you could be intimidating to other drivers and is the most popular colour for luxury vehicles.
Red – Implies you have high energy and power.
Grey – Suggests you are knowledgeable and happy to go with the flow.
White – This means you hold high regard for yourself.
Yellow – Gives off a sense of optimism and joy, and that you're happy taking risks.
These colours, their psychological meanings, and how you could be perceived are all great things to contemplate before finalising your choice.
What do you want out of your vinyl car wrap colour?
Before completing your car wrap purchase, think about what you want out of your car wrap:
Do you want it to stand out?
Does it manifest your personality?
Are you wanting to draw attention?
Before committing to a wrap, you will also need to decide if you want the wrap to cover the whole of your vehicle or just sections of it. Isolating car sections to be coloured, such as car doors, bumpers, or just surrounding the trims, can transform your vehicle's look entirely.
How much does it cost to change your car wrap colour?
Factors that impact the cost of car wrapping include the model of your car itself, surface area, and the car's edges. A full wrap on a vehicle can cost anywhere between £1,000 and £5,000, but this depends on various factors.
The total size of the vehicle can significantly impact the cost of the wrap, and some cars have fiddly and complicated bends and curves which can make wrapping the car more complex and take more time to complete.
If you want to know the cost of your vehicle, you can request a quote and get your total cost estimated.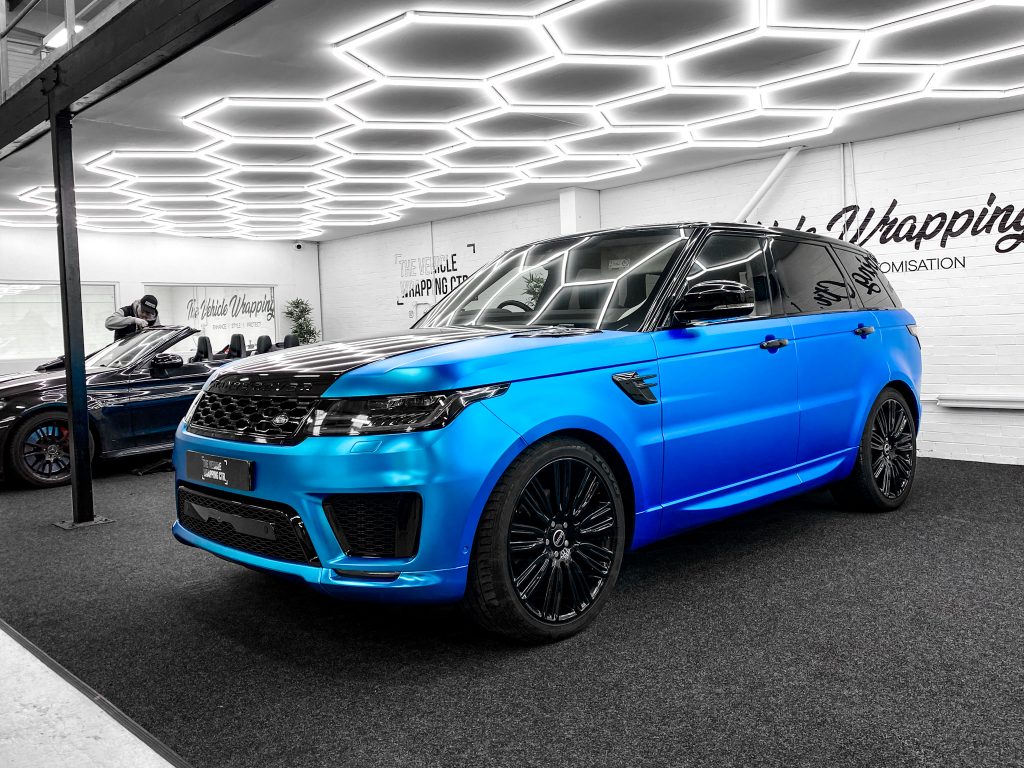 Tips for choosing the best car wrap colours
To help you choose the best car wrap colours, bear in mind the different moods colours can give off, what would complement your vehicle, and make it the best version.
Cooler car wrap colours such as Gloss Ice Blue and Kelly Green are a great choice but ensure the cool tones match your aesthetic. Also, consider the finish you want to have after choosing your perfect colour.
Sometimes the finish of gloss, matte, and textured wraps can make or break your chosen colour. These finishes can complement your vehicle in different ways.
Car wrap colour ideas and inspiration
Vehicle wraps are more durable than paint, and a high-quality vehicle wrap can last around ten years or more as they are thicker than paint, more resistant to damage, and easier to maintain.
A large range of colours is available, and this level of choice makes vehicle wraps incredibly versatile and customisable to a buyer's tastes.
Since vehicle wraps are easy to duplicate and feature eye-catching graphics that companies love placing on their fleets to raise brand awareness. On the other hand, many car owners enjoy using them to make their car's exterior stand out from others.
Sometimes you don't always need to wrap your whole car, and if you want to make a change, you just need to mull over various options to add a different look and feel to your vehicle. These can be small changes but add a lot aesthetically.
De-chromes – When you have your vehicle wrapped as a de-chrome, it covers all the dated trims and creates a new look for your vehicle.
Carbon fibre detailing – You can add a small but positive change to your vehicle by adding carbon fibre detailing. Carbon fibre detailing can add a professional, sleek look to your exhaust and wing mirrors.
Striped details – Customised stripe details can add character to your vehicle if you don't want to wrap the whole car up.
Interior wrapping – This option doesn't make a bold statement as much as the exterior, but this is still an option if you want a change. Be wary, as sadly, some vehicles can't have interior wrapping.
Embossing – Embossing is when graphics are embossed under the surface of your vehicle, adding a personalised logo or touch. More suitable for branded vehicles, this process makes your vehicle stand out and impactful if you want to promote something.
Wrapping up
After considering all options of colour change, expected cost, and the mood each colour gives off, the best colour to wrap a car is one you personally enjoy and that matches your personal aesthetic.
Of course, minimal wrapping and other slight details can also give your desired look. Ultimately the very best colour to wrap a car is down to you.