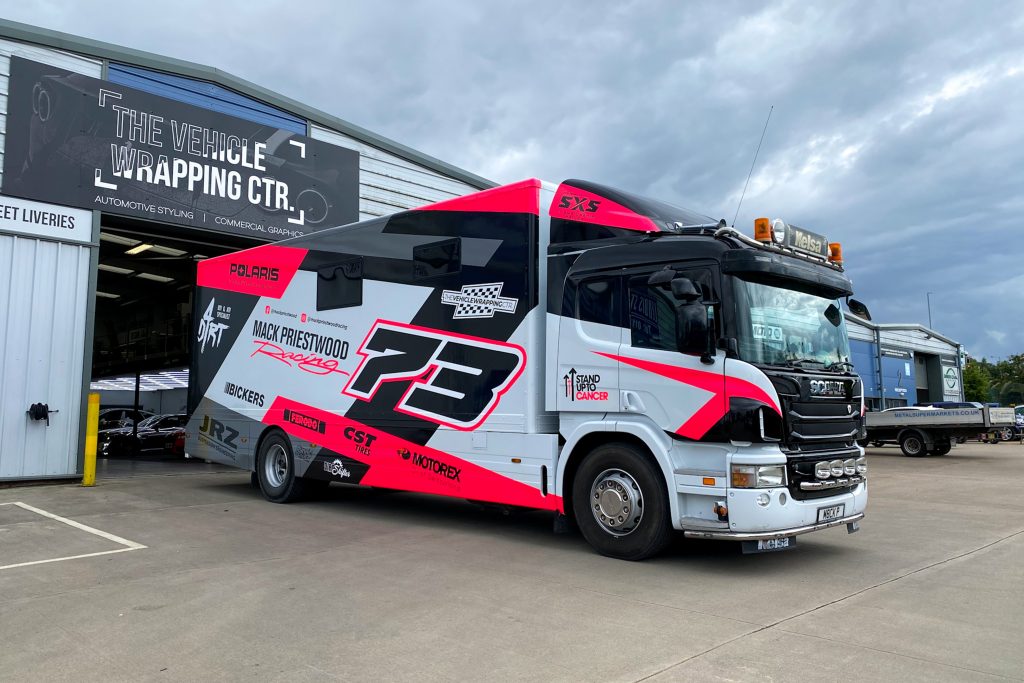 Commercial vehicle livery design is a fantastic way to advertise your business. In a world where people only look up from their mobile phones if they are driving, a soft-sell approach can be a genius way to reach new clients and customers.
This style of marketing and advertising provides significant benefits, including growing your organic customer base and word of mouth within your region.
What is a commercial vehicle livery?
A commercial vehicle livery involves transforming the appearance of your vehicle using vinyl graphics with the primary purpose of advertising your business while on the go.
This marketing technique can revamp your fleet, reinforce brand identity to existing consumers, and draw in new clients. Fleet livery is a great form of outdoor advertising for brands, helps with brand awareness, and keeps a lasting impression on potential customers' minds.
Additionally, commercial vehicle livery is the most cost-effective way of advertising your business. Thanks to bright colours and attractive wraps, your company stands out from other vehicles on the road.
It's normal for most drivers not to pay much attention to a plain white van while driving — but they will notice a van livery design. Depending on whether you have one vehicle, a fleet and how far you are travelling, you could reach tens of thousands of people per month, and many of them might need your products or services.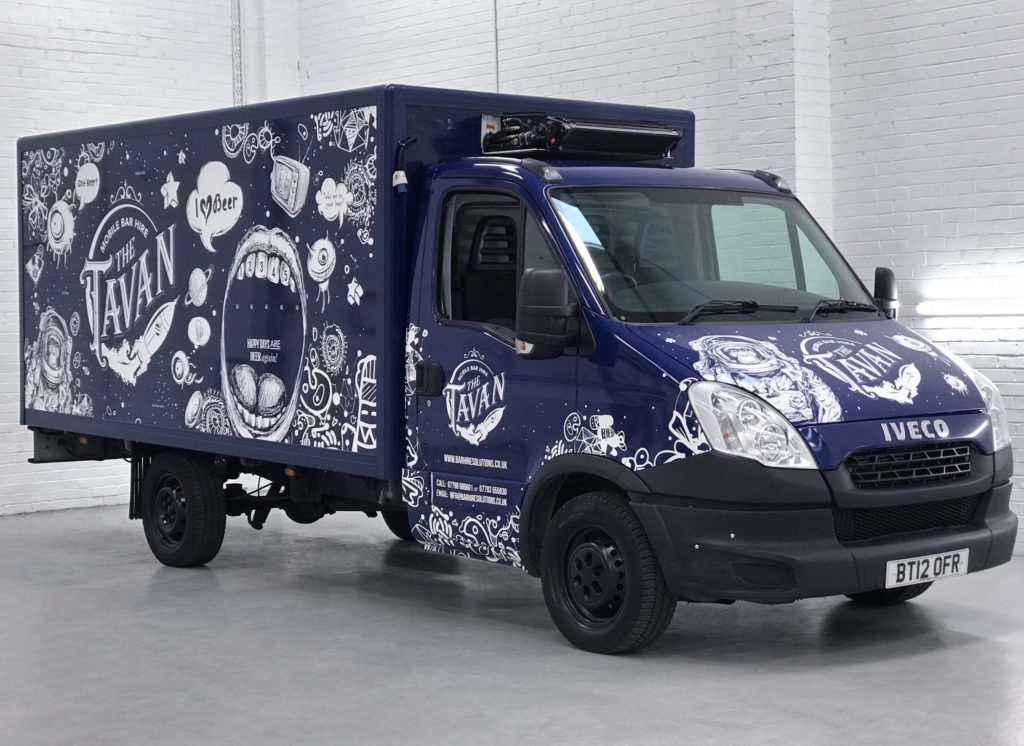 Advantages of commercial vehicle liveries
Let's look at some of the very many advantages of commercial vehicle liveries:
Mass Marketing and increased brand visibility: Commercial truck livery design is a unique way of reaching thousands of people every week. Whether for existing or new customers, you are guaranteed visibility.
Around-the-clock advertising: Once you have added commercial vehicle livery design to your vehicle, this is now constantly advertising your business and services regardless of where your vehicle is parked, meaning you can reach more potential customers at any one time.
Professional Image: A clean and well-maintained livery could help you convey a professional image to new and existing clients.
Cost-Effective: Making the initial investment in your vehicle livery design will save you money in the long term. Unlike billboards and advertising boards, where you find consistent monthly recurring costs, livery design is one investment for daily visibility.
Easy to update: The great thing about commercial vehicle livery design is that it's easy to update and change and can quickly be updated if your brand image changes.
Protection: Vinyl wraps protect your vehicle against any scratches and minor dents and can help keep your vehicles in excellent condition if you decide to sell or trade them on.
How do I get a fleet livery?
At the Vehicle Wrapping Centre, we offer bespoke designs and allow you to help create the design you want, offering a personal spin to boost brand visibility. We have a team of experts who deal with all vehicle types, from small business cars to giant cranes.
Our experts guide you on what materials are best for each individual application, with quality and longevity at the forefront of everything we do.
We work with all types of vinyl, whether a standard colour, texture, or effect such as wood, grain, or a complete custom design for you or your business, to accommodate all requirements and special requests.
Our AVW (Authorized Vehicle Wrapper) status confirms we have the skills, experience, and training required for any style of vehicle wrapping. Our experienced design teams are experts in maximising the impact of your vehicle graphics.
We provide vehicle livery solutions proven to get your business noticed. We offer cost-effective marketing solutions, and our expert design team maximizes your vehicle graphics' impact — whether a partial or complete wrap.
We pride ourselves on quality and our granular attention to detail. Our reputation has been solidified on being creative, reliable, trustworthy, and a reputable company that does the job.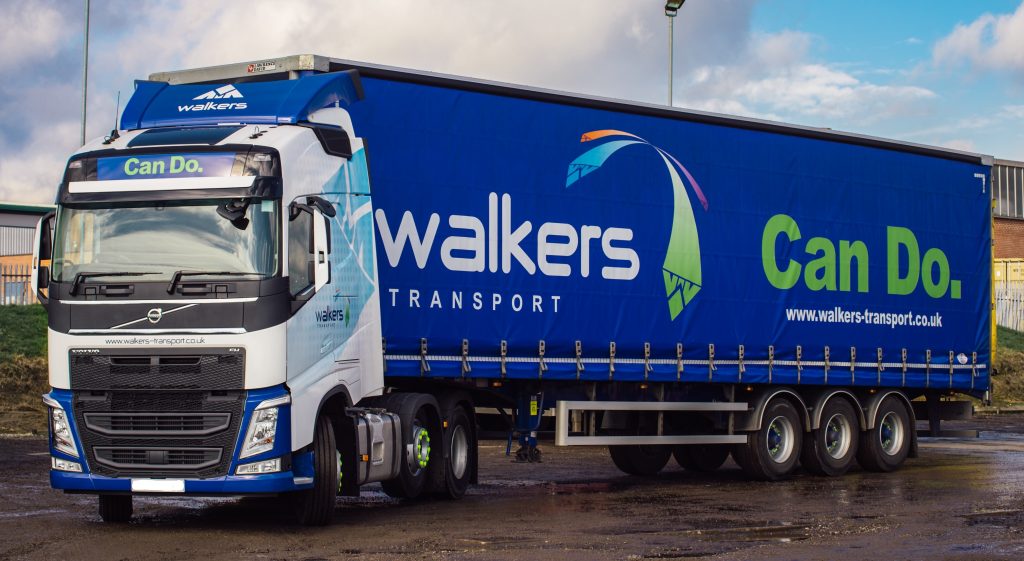 Are vehicle liveries expensive?
Vehicle livery is incredibly affordable and cost-effective as you only pay one bespoke price, and it remains on your vehicle for as long as you own it.
Whether you are looking to add business graphics to a motorbike or an entire fleet of company vehicles, you can count on us to deliver eye-catching designs that reflect the quality and importance of your business.
Unlike painted graphics, our vinyl wraps are removable and temporary, so if you need to change or update your livery branding or design, there is no hassle to worry about.
Remember, if details change since your first wrap — contact details, name, or logo — then the best thing about wrapping is that you don't have to remove and replace the whole wrap.
Get in touch to discuss your vehicle livery
We specialise in vehicle branding and have become the area's first choice for fleet graphics and vehicle wraps. For years, we have worked with local clientele and produced many of the well-known fleet designs you may recognise today.
We offer wrapping services for:
Trusted by these companies, we maintain their fleets with a focus on quality, cost-effective vehicle graphic production. At Vehicle Wrapping Company, we have a large team of experts, allowing shorter lead times, which is an advantage for any large transport business. Prices are bespoke and match the quality and service we provide, so contact us today for your quote.