Why Fleet Liveries matter
Livery design is a cost-effective way to advertise your company. It's a fantastic way to ensure customers recognise your business by brand and logo to create a memorable image for your customers to remember or to refer back to.
This can be a lot to handle when you have an entire fleet to manage. Especially when arranging your car wraps and graphics, and all branding and pictures must be consistent across your vehicles and schedule individual install times. As you can see, there is much to consider.
At the Vehicle Wrapping Centre, we offer bespoke livery design services and can provide a unique vinyl transformation of your fleet. Our commercial expert design team provides the services we offer for livery design. We have assisted countless businesses and provided high-impact transport branding solutions for various industries and vehicle types.
Whatever kind of fleet you have, we professionally design, wrap and arrange efficient wraps and graphics for every vehicle type.
Managing fleet liveries and wraps
Managing fleet wraps for a large fleet of vehicles can be difficult, especially when managing different vehicle types. We help coordinate efficient and cost-effective customer graphics for your company's vehicles.
here are plenty of options to consider when managing fleet wraps, including each vehicle's unique shapes and sizes. This includes large and small vehicles, which could be spread around the country and the areas/mileage they cover. 
What are the different types of fleet wrapping?
When managing your fleet wraps, always consider there are many kinds of wrappings available, including car stickers, decals and magnetic car signs, partial vehicle wraps, and full vehicle wraps.
These options suit all vehicles, including cars, vans, pick-up buses, trucks, and lorries.
Stickers and decals
Branded stickers and decals are a fantastic way to promote your business and can be the cheaper option for branding a fleet or vehicle. This puts your brand logo out there and makes it recognizable for current or future customers.
Partial vehicle wraps
Partial vehicle wraps cover one section of your vehicle. They are also cost-effective for a simple design that can play off the original colour scheme of your cars and make your branding, logo or contact details stand out.
Full vehicle wraps
Complete vehicle wraps are the most effective visual and protective option, and full vehicle wrap encases all vehicles into high-quality vinyl. Every angle of your car carries a seamless, high-quality design for maximum impact.
Complete vehicle wraps can also be the best option for maximising your fleet resale value, as the paintwork is protected from road damage, such as stone chips and grit, which can cause abrasions.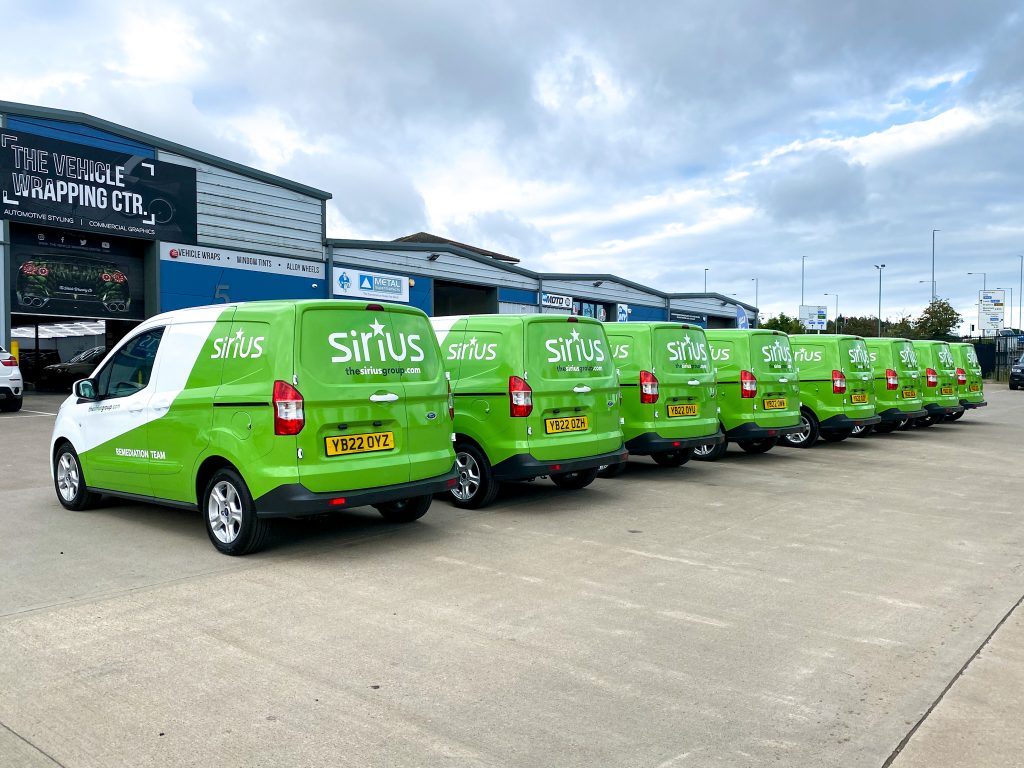 Are liveries cost-effective?
Livery design is an excellent, cost-effective way to get your brand or business out there and purchasing commercial vehicles, especially HGV can be expensive. When investing in your fleet, you allow your vehicles to benefit you in more ways than one. Market your business on the roads and allow yourself to be noticed by current and potential customers for all the right reasons.
Vehicle graphics and vehicle liveries provide your business with unrivalled value and are an excellent choice for cost-effective advertising. It's estimated that vehicles are seen around 3,000 times per hour while on the roads, so you can understand why vehicle branding is vital for brand awareness.
The keys to a quality fleet
As a fleet manager, you may know that one of the most difficult parts of managing a fleet is ensuring there is high quality and consistency among all vehicles regardless of the shape. If you're trying to maintain a specific look for your vehicles, as mentioned, it's essential all your vehicles carry consistency and uniformity with branding.
At the Vehicle Wrapping Centre, we provide original bespoke designs that can be replicated across a fleet of vehicles. When it's time to refresh your fleet, this can easily be removed and leave your vehicle in excellent condition leading to a potentially higher resale value.
The finish of a full fleet wrap looks professional and promotes your brand or marketing message in a highly effective manner. With such freedom of design, you can use any combination of text and graphics, including decals if required, to create an entirely bespoke finish on your commercial vehicle.
Benefits of fleet wrapping
At the Vehicle Wrapping Centre, we care for countless BGV fleets across the Yorkshire area and more. We understand the importance of maintaining a uniform and professional fleet and work with you to ensure the project is completed to your satisfaction.
Our expert team takes care of the process in-house, and we will work with you to create a bespoke design that meets your requirements and allows you to connect with potential and current customers. Whether you are searching for stickers and decals, partial or full wraps, we will ensure your fleet looks its very best.
Contact us today for a quote on your fleet and have our expert team guide you through our process of bespoke design services and wrapping services, providing the best value for money and the best quality design for years to come.