The VSCC Yorkshire Hill Climb 2019 takes place on June 1st at Harewood Speed Hillclimb in the Wharfe Valley just north of Leeds.
All manner of cars and motor vehicles will be heading to the hillside for the event, with panoramic views from the paddock ensuring an unforgettable experience for spectators too.
Harewood Hill is located between Collingham and Harewood on the A659, just off the A1 – Harewood Speed Hillclimb is also marked on Google Maps with a 360-degree 'Street View' photograph of the venue from a 2017 meet.
With the backing of the Vintage Sports-Car Club, this year's Harewood Hill Climb is officially recognised as Round 3 of the 2019 VSCC Speed Championship.
What happens at the VSCC Yorkshire Hill Climb?
The VSCC Yorkshire Hill Climb is being hosted by BARC, the British Automobile Racing Club, and is just one of a packed calendar of events at Harewood Speed Hillclimb in summer 2019.
Its official name on the BARC events calendar is Classic & Vintage Hillclimb (Nat B) as it is a National B Permit event.
Entry is open to members of BARC, VSCC, the Historic Sports Car Club and certain others including the Bentley and Jaguar Drivers Clubs.
Starting from 9am, cars take turns to tackle the track one at a time, with four left-hand and seven right-hand bends along the 1,448.25-metre course.
Categories include standard/modified sports cars and saloons, Edwardians, special sports cars and saloons, pre-1941 racing cars, classic cars and other classes including specific drivers clubs.
Racing ends at or before 6pm, with all competitors offered at least two practice runs and, if time allows, up to three timed runs on the day.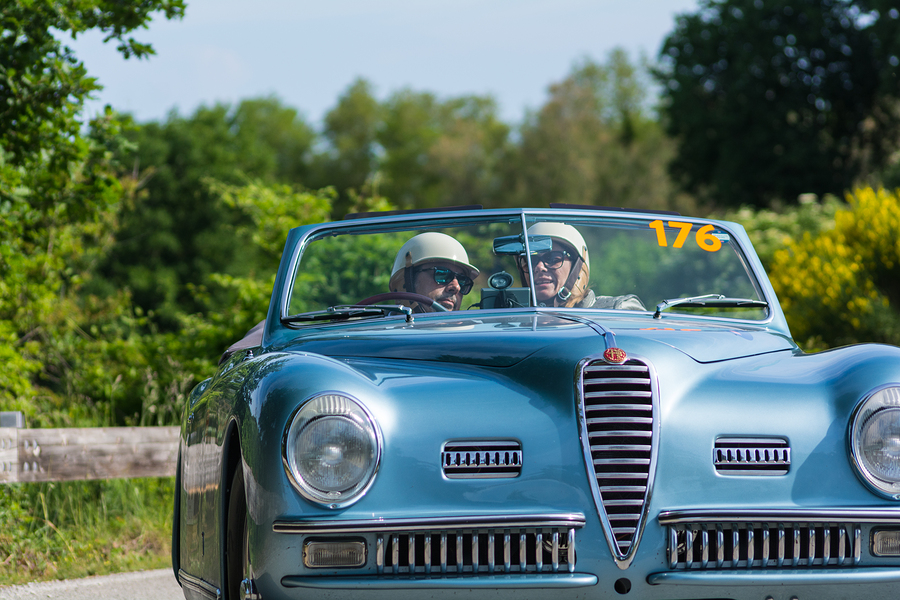 Prizes on the day
BARC (Yorkshire) will give out a number of prizes on the day, while VSCC will present the prizes for VSCC classes V1-V16.
For the classes awarded by BARC (Yorkshire) there will be souvenir trophies for:
Fastest Time of the Day
Fastest Time by a Classic Car (Class C19-C22)
First in Class (where there are two or more entrants in the same class)
Second in Class (6+ entrants)
Third in Class (10+ entrants)
Fourth in Class (16+ entrants)
Each class must have at least two entrants – smaller classes may be grouped together if necessary – and the entire event has capacity for 80-150 entrants in all.
Watching the VSCC Yorkshire Hill Climb
Tickets are currently available priced at £8 for VSCC non-members and any remaining tickets will be £10 on the day.
Spectators receive a free event programme (subject to availability) and paddock access, with free admission for children under 14, who should be accompanied by an adult at all times.
Paddock admission also includes free car parking, and the Hill Top car park gives a view of the track – again, spaces are limited so it's first come, first served.
No animals are allowed in the car park, paddock or other spectator areas, and no drone photography is allowed either.
But with panoramic views of the course from the Hill Top car park and spectator paddock, there should be plenty of photo opportunities on this memorable day of motorsport.