Identify yourself
and get ahead
Corporate branding is an effective way to identify yourself from other companies and is the foundation for building a relationship with customers and establishing your brand as a trusted organisation within the industry. It can also increase brand awareness and improve customer retention. There are plenty of advantages to using corporate branding:
Provides a competitive advantage and sells its products and services in the market due to strong corporate identity and brand name
Allows growth into new markets and locations on domestic and international levels
Builds brand loyalty and trust with existing customers and prospective customers
Marketing and promotional efforts become more accessible with corporate branding in place
Increased brand awareness means customers identify the logo, mascots, colours, shades, and taglines with other brand elements
What is corporate branding?
Corporate branding is the messaging and positioning of a brand. It is more than just a name, product, or colour scheme. Corporate branding represents how consumers see a company and impacts how target audiences perceive companies.
Business owners focusing on corporate branding understand how to promote new products and communicate with the target audience. These companies maintain their corporate image across marketing materials and channels.
All linked with corporate branding, the corporate image is displayed across the company marketing materials, ads, social media posts, vehicle livery and many other ways to reflect the company identity.
Why is commercial branding important?
Commercial branding is essential as your consumers will recognise you more often. If you have strong branding for your business, people will naturally make a note of it and remember you more.
A business with elements such as a distinct logo, attractive colours and other visual elements will be more memorable. Someone may only see your brand for a second, but if it sticks out in a positive way, they will not forget it.
Even if this person isn't ready to use your products or services, they will return to you if your branding has stuck with them. More benefits to commercial branding include:
Establishing a clear vision of the company's future and direction
Differentiating from competitors
Creating a connection with customers
Increasing perceived value
Forming trust through an increased sense of reliability and quality
Tips for developing a strong corporate brand
Developing a strong corporate brand is critical to building a successful business. Here are some tips to consider when developing your brand:
Understand your target audience: Before developing your brand, it's important to understand your target audience and their value. This will help you create a brand that resonates with your target audience and meets their needs.
Develop a unique value proposition: Your brand should communicate a unique value proposition that sets you apart from your competitors. This should be communicated clearly and consistently across all marketing channels.
Define your brand's personality: Your brand's personality should reflect the values and characteristics that are important to your target audience. This can include things like friendliness, professionalism, or innovation.
Create a consistent visual identity: Your brand's visual identity should be consistent across all marketing channels, including your website, social media, and advertising. This includes using consistent colours, fonts, and imagery.
Be authentic: Your brand should be authentic and reflect your company's values. This means being transparent about your business practices, values, and culture.
Deliver on your promises: Your brand promise should be reflected in your products, services, and customer service. Delivering your promises will help build trust and loyalty with your customers.
Monitor your brand's reputation: Your brand's reputation is critical to its success. Monitor social media and review sites to ensure customers perceive your brand positively.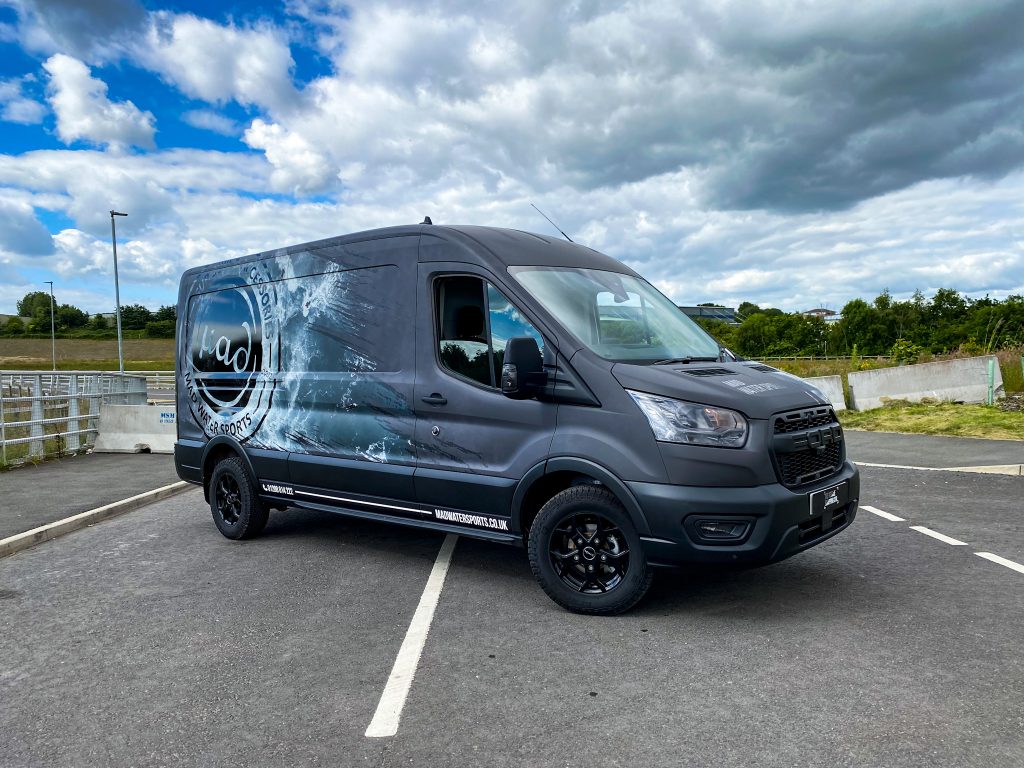 Types of corporate branding
There are several types of corporate branding that companies use to establish and promote brand identity, including many different types on offer here at VWC.
Fleet wrapping
Fleet wrapping is an effective and cost-efficient way to advertise a business or promote a brand. The vinyl wrap can last for several years and protect the vehicle's paint from scratches and weather damage. Additionally, fleet wraps can reach a large audience, as the wrapped vehicles can be seen by people driving or walking by, as well as at events and on the road.
Vinyl wall wraps
Opting for a vinyl wall wrap allows you to transform your indoor or outdoor wall space, reinforce your brand identity with your existing customers, and help attract new ones.
At VWC, we are not just limited to vehicles, with our in-house capabilities, we offer bespoke printed wall wraps perfect for offices, boardrooms, and feature walls. Our team can create a bespoke piece of architectural wrapping, all designed to your taste with no limitations to create a unique space.
Vinyl signage
Vinyl signage is a fantastic way to advertise your brand and business, and is a great option for indoor and outdoor advertising as it can withstand all weather conditions.
At VWC, we offer the perfect set-up for large-scale production and high-quality photographic imagery. Vinyl signage has many advantages, both internally and externally. This modern technology uses durable, waterproof, scratch-resistant inks and an over-laminate finish, making it perfect for signage of all kinds.
Logo design
Logo design is an important aspect of branding for any business. A logo serves as the visual representation of a company or brand, helping to establish its identity in the minds of customers.
A well-designed logo is memorable and easily recognisable, which helps to build brand recognition among customers. A unique and well-designed logo can set a business apart from its competitors and help to distinguish its products or services in the marketplace.
Overall, a well-designed logo is an important investment in a business's brand identity. It can help drive customer engagement, loyalty, and recognition, and create a strong and lasting impression of the business in customers' minds.
Request a consultation with one of our designers for more information.
How the Vehicle Wrapping Centre helps with corporate branding
At VWC, we are a specialist vehicle graphic and wrap designer, but we're not limited to vehicle wrapping! All our designers are fully qualified to offer bespoke product designs.
Our team yields an expert skillset, meaning we have the creative ability, experience and prowess to offer our customers additional design services and complete branding solutions. This is perfect for any company looking for 100% brand continuity with vehicles at the forefront of what they do.
At the vehicle wrapping centre, we offer a full range of bespoke graphic design services, from commercial graphics, logo design and brand creation to marketing materials, flyers, and leaflets.
Our design team are incredibly experienced and trained in bespoke graphic design but also offers extensive knowledge of our print and production services, meaning we can guide you through the process. Whether this is implementing branding on vehicles, signage, or handouts, we can certainly help.