Decal marketing covers a wide variety of different ways to add your logo or other individual images to a business vehicle – you might also see mention of vinyl logo marking, sticker marketing and magnetic decals.
It's a good way to add marketing messages to work vehicles so that people can see who you are and where you're from, and that you are on the job.
This can help drum up some extra enquiries in the same local area, or at the very least can make other road users a little more sympathetic if you're forced to park in a less-than-ideal spot while delivering goods.
Here are five reasons why vinyl decal marketing in particular is a great option.
1. It's vibrant
Vinyl decals are vibrant and versatile, with bright inks printed on performance materials designed specifically for the job – so you have plenty of control over the finished effect.
Unlike stencilled decals, you're not limited to individual colours or a slow and complicated hand-painted finish. If you can design it on a screen, it should be possible to print it as an adhesive vehicle decal.
2. It's durable
Vehicle vinyl wraps are built to last, and although they are removable, they are unlikely to peel off while you're out and about – unlike weaker, cheaper magnetic decals that might not attach well to your bodywork.
Because of this, vinyl vehicle decals are a preferred option for longer-lasting results, and a quick coat of wax (with due care and attention around the edges and joins of the decal) can keep them looking great for even longer.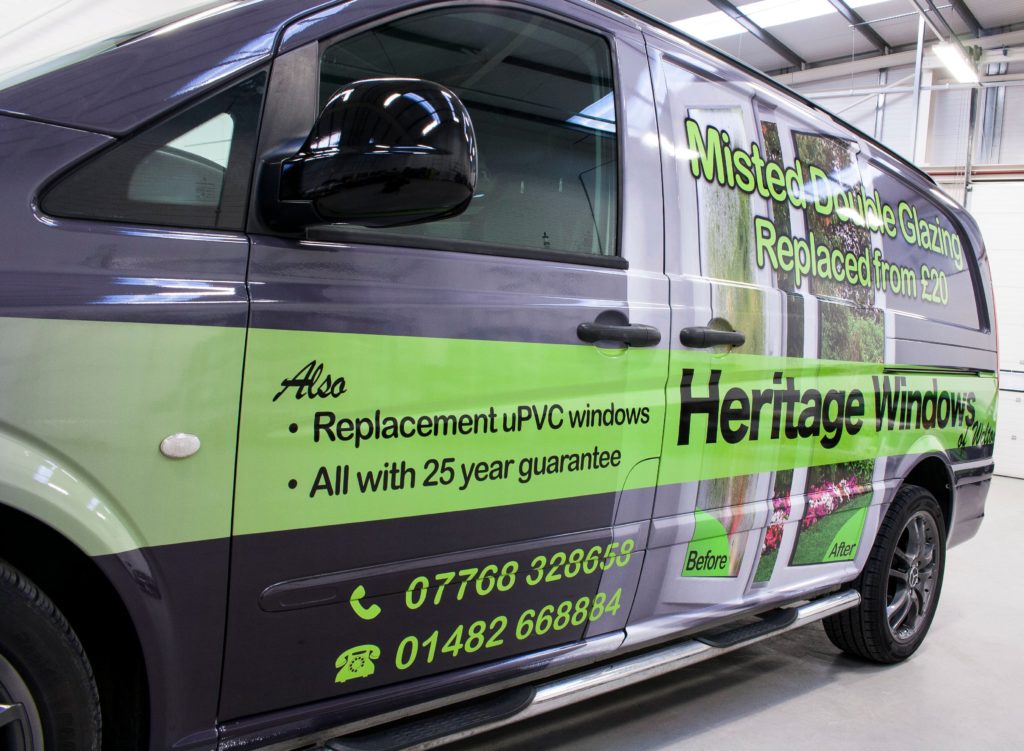 3. It's detailed
As mentioned above, if you can design it, you can probably print it as a vinyl decal – and that means you can include some finer details.
That might mean a phone number or other smaller text for passers-by who are able to read your decal close-up, along with larger logo imagery for other road users who will see it from further away.
4. It's fast
Once the design process is completed (and we can help with that part) professional installation of vinyl vehicle logo decals is fast and instantly effective.
With our team's experience and expertise, you can be sure of a high-quality finish, so there's no risk of that wrinkled-wallpaper effect you might get from attempting to install mail order vinyl decals yourself, and no lengthy wait for a hand-painted logo to dry.
5. It's temporary
Vinyl logo decals are a temporary addition to any vehicle – you can easily peel them off at any time to restore the original paintwork.
By opting for a vinyl wrap that covers the entire panel, or has a general overall shape rather than individual lettering, you can also avoid leaving the 'ghost' of the text or image on faded paintwork.
If you think you will keep your decals on your vehicle for an extended period of time, consider a full panel wrap or even a complete vehicle vinyl wrap for this reason.