Top tips for brand strategy development
Brand strategy development is a way to build your marketing presence, grow your customer base and generate some positive word of mouth.
A good brand strategy has clear ambitions, whether that's to increase brand awareness, improve your website search rankings and traffic, or directly target sales, revenues and profits.
However, all brand development should naturally result in sales growth. At The Vehicle Wrapping Centre we have worked on brand marketing strategies in many different industries and have unique expertise in large-format printing including vehicle branding and architectural wraps.
In this guide we'll look in detail at some of the insight that goes into our design services for commercial customers, and if you would like to put our expertise to work for you, you can request a design consultation today.
What is brand strategy?
Brand strategy is an action plan that sets out how you want your business to be perceived by your customers, from start to finish.
A comprehensive brand strategy can cover all your communications, from outbound marketing and content strategy, to social media and customer service, to the interactions that take place when a customer makes a purchase or places an order.
Your brand is not just your trading name. It's your colour scheme, the graphics you use (including your logo) and your tone of voice. It's part of every email you send and every page of your website.
In the real world, brand strategy includes the signage around your premises, vinyl vehicle wraps for your commercial fleet, and even the little things like letterheads and business cards.
Your strategy could be very specific, for example including a business card with every letter you mail. Or it could be quite general, such as a decision to engage with competitors on social media, or to avoid acknowledging them at all.
Do I need a brand strategy?
Strategy is crucial to successful brand development, especially over the long term. Small short-term gains can add up over time to make a massive difference to your sales, revenues and profits.
But a brand strategy doesn't have to be complicated. It could be as simple as getting digitally printed wraps for your commercial fleet, so any time you drive anywhere, passers-by can see your brand name and contact details.
There are several common goals of brand strategy, and these can include:
Increase brand awareness and potential customer base.
Improve positive perception of your brand.
Generate more footfall and/or website traffic.
Expand into new local areas and/or social networks.
Develop your brand into new product/service offerings.
Ultimately, knowing what you want to achieve can help you to decide how to develop a brand strategy that works for you, whether that's online or in the real world.
How do I develop a brand strategy?
Start by writing down what you want to get from your strategy. Be specific, but also be realistic. For example, you might aim to generate 10% more enquiries from new customers each week.
Your goals can be very personal and it's fine to set both 'realistic' targets and also 'ambitious' targets that you don't expect to achieve, but still want to aim for.
Next, list any marketing activities you already have in place. This can include everything from classified ads in the local newspaper, to your website, Twitter account or Facebook page.
Knowing where your brand awareness is already coming from can help you to identify potential target areas for growth, either by building on something that is already working for you, or by filling in the gaps in your current brand strategy.
Brand development can include online techniques like SEO and social media, which we'll look at below. But it can also take place in the real world, and this is where you have the chance to reach your local customer base directly and establish your brand in your area.
Examples of offline brand strategies
In a moment we'll look at some digital brand strategies, but first let's think about the real world and some of the opportunities to display your brand in physical form.
Vehicle branding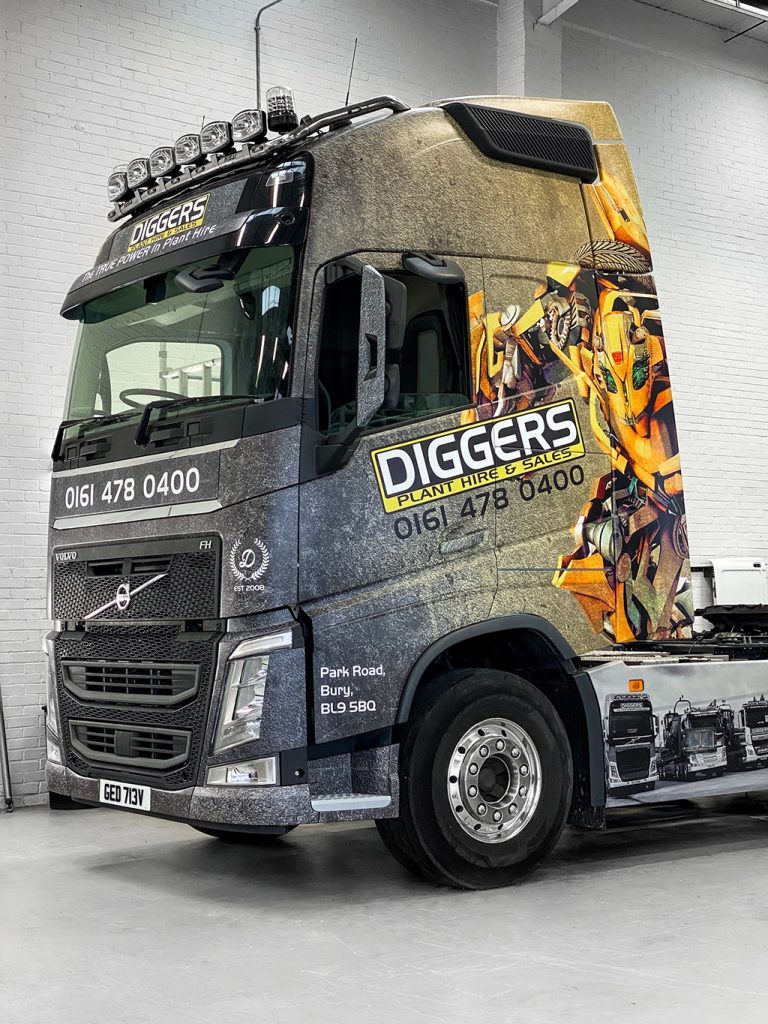 Vehicle branding can take many different forms. Vehicle vinyl wrapping is a good way to make full use of the surface area of your vehicle.
You could do this in several different ways:
Change the colour of the vehicle to match your brand identity.
Display your company logo on the sides and rear of your vehicle.
Show contact details so passers-by can get in touch with you later.
Effective vehicle branding is an art in itself, as information needs to be displayed clearly so it's understood in less than a few seconds yet still memorable.
Fleet wrapping
Fleet wrapping gives all your vehicles a consistent brand identity and can also help to convey a sense of ownership over company cars when you provide them as an employee benefit.
On larger vehicles such as HGVs, as well as large passenger vehicles like buses and coaches, fleet wrapping is a way to capitalise on the large surface area available to display your brand.
Alternatively, you might just want to have fun with your vehicle wraps. A growing number of HGV fleets are wrapped in bright colours or feature artwork inspired by a favourite movie or computer game.
This is a good way to put across a 'fun' brand personality and can encourage other road users to search for your company later, if they want to know whose truck they have just overtaken and find out more about its eye-catching graphics.
Commercial graphics
Commercial graphics should be consistent across all media types for maximum brand awareness and retention.
At The Vehicle Wrapping Centre we work on a wide range of commercial graphics, not just vehicle vinyl wraps, but also:
Event graphics (track days, tournaments and charity events etc)
Vehicle graphics (vehicle colour changes, livery, branding and contact details)
Wall wraps/graphics (office branding, bedroom feature walls etc)
Vinyl signage (bright, durable signs and banners for various applications)
High-visibility graphics (using reflective and night-visible graphics)
Branded apparel (using vinyl transfers, heat printing and/or embroidery)
To find out more about any of these commercial graphic design services, get in touch with us today and we'll be happy to advise on the best way to achieve the marketing materials you want.
Architectural wraps
We don't just wrap vehicles. Architectural wraps use high-performance vinyls to wrap parts of a building, in order to change its colours or display text and graphics that can be seen from street level.
Printed wall wraps can also be used indoors, to create feature walls (including in residential properties) or to add an inspiring quote to a meeting room wall, for example.
Architectural vinyl wraps can be a bespoke printed design, but also come in a variety of patterns including brick, wood grain and metal effects, which can be applied to almost any surface to instantly change its aesthetic, often very convincingly.
We welcome unusual concepts and can advise upfront on whether we think an idea is possible or not, so please get in touch if you have an architectural wrap in mind and want to know if it can be achieved in the real world.
Examples of digital brand strategies
As well as your real-world brand strategy, there are a number of digital brand strategies that can help you to build your profile online.
Social media strategy
Social media allows you to interact directly with your customers, to promote your latest special offers, and can work well as a quick method of customer service.
SEO & PPC
SEO (search engine optimisation) and PPC (pay per click) are two ways to appear in more search results. SEO helps your website to climb in the search rankings, while PPC allows you to pay to appear in the sponsored results.
PR
Online PR can get your brand mentioned on third-party websites, local news sites and on social media to generate positive word of mouth.
Content marketing
Content marketing means publishing text, images, video or any other multimedia content that promotes your brand, builds your audience and generates sales.
How important is design in brand strategy?
Design is an essential element in a brand marketing strategy. It affects everything from how professional your marketing looks, to how well you put across your brand personality and your main marketing messages.
Good design is not just about using the right pictures. It includes your colour choices, the font/typeface of your text, and even things like font size and white space around your text and graphics.
By getting your design right, you make sure your message is loud and clear, communicated well and that your brand is presented as positively as possible.
Get in touch to see how we could help with your brand strategy
The Vehicle Wrapping Centre offers a range of design services for vinyl vehicle wraps, as well as other marketing materials including print media, flyers, business cards, logo design and so on.
We provide this service free of charge on vehicle wraps, when you place a £150 deposit towards the final invoice amount. Of course if you have an existing logo or other graphics you want to use, that's fine too. If you'd like to talk to our team of graphic designers in Leeds about your vehicle wrap concept or other marketing materials, request a design consultation today and we can collaborate on something truly bespoke.