The Ultimate Guide to Vehicle Detailing
The Vehicle Wrapping Centre offers professional vehicle detailing services at our Leeds premises. Whether your car is old or new, vinyl wrapped or original paintwork, our expert team will get it looking its best.
We provide a variety of different detailing services. We can protect new production line vehicles against paint damage, restore older cars to a newer-looking condition, and polish paintwork ready for resale, in order to maximise the value of your vehicle.
Once your vehicle detailing is done, we also stock a range of cleaning products and protective bathes that you can use to keep the finish looking shiny and bright until your next visit to The Vehicle Wrapping Centre Leeds.
In this guide we'll look at some vehicle detailing tips, how to go about getting your car detailed, and answer the most important question: what does it mean to get your car detailed?
What is vehicle detailing?
Vehicle detailing is not just a clean and polish. Professional vehicle detailing services can add considerable value to your car by removing damage caused by incorrect cleaning in the past.
Casual car cleaning can cause light damage to paintwork. Whether it's due to using the wrong cleaning products that dull the paintwork's colour and shine, or fine grit in the water that has an abrasive effect and leaves swirl marks in the paint, over time it all adds up.
By following a long list of car detailing steps, professionals can remove the visible damage to your paintwork using premium quality vehicle detailing products, to restore a glossy, new-looking finish.
The benefits of getting your car detailed
Expert car detailing services offer several benefits. There's the immediate benefit of driving a great-looking vehicle, as well as the extra resale value you'll gain as a result.
Maintain your value
The value of your car depends on a lot of different factors, but its visual appeal is one of them. Dull, damaged paintwork makes the vehicle look old and less cared for. Even an old car can be worth a lot more if it looks well preserved.
Car detailing helps to keep vehicles looking like they just rolled off the production line. This can prevent some loss of value during the first few years of a new car's life, and restore a significant amount of the resale price of older vehicles.
The detailing is specifically for your vehicle
They say the devil's in the detail, and that's especially true in professional car detailing, where the specific services and cleaning products used depend on your car's own characteristics.
If you have existing coatings on your car, they can be removed, restored or polished to a high shine. Vinyl wrapped vehicles can be detailed too, using suitable waxes and polishes that will not degrade the vinyl or reduce its life span.
You gain an extra level of protection
If your car is not already coated, vehicle detailing products can give it a suit of armour. Invisible ceramic coatings bond to the vinyl wrap or original paint job, creating permanent protection against chemical damage.
Ceramic coatings can only be removed by abrasion. They should be seen as a permanent addition to your car – and may also be a permanent addition to its value.
What steps are involved with vehicle detailing?
Our vehicle detailing services follow a sequence of car detailing steps to make sure everything is restored back to its best not only on the exterior surfaces of your car, but also on the inside.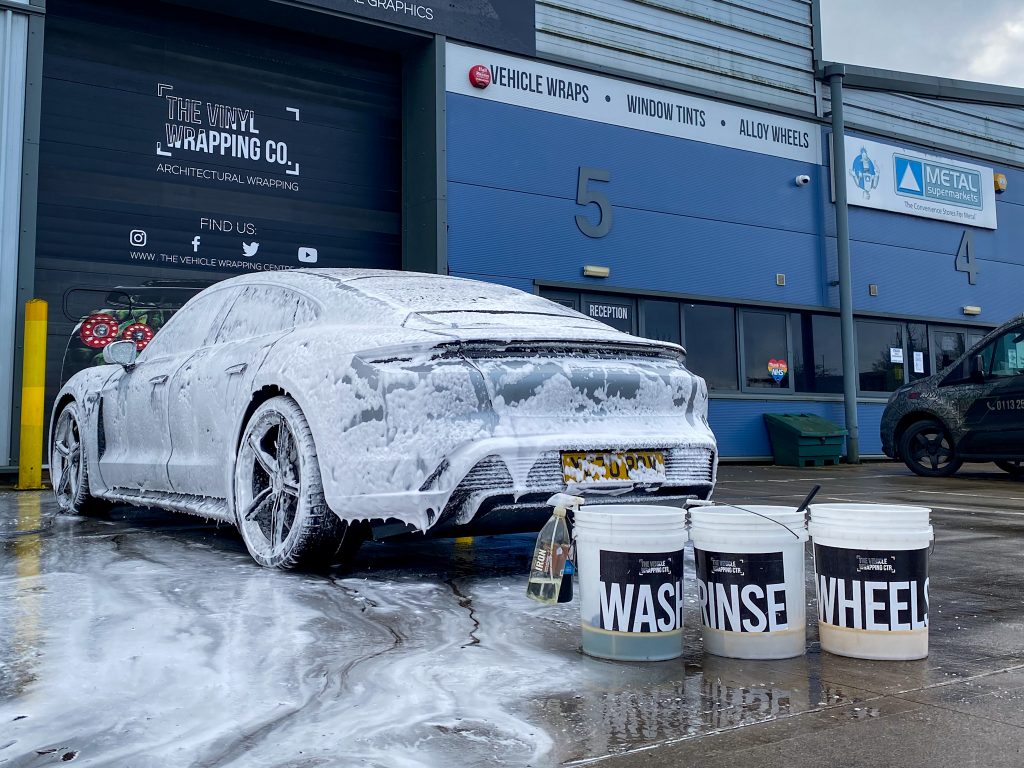 Multi-stage wash
First of all, we give your car exterior a complete clean. We do this using the 3 bucket grit guard safe wash system, which reduces the risk of any fine grit or sand coming into contact with your paintwork.
We use professional, non-harmful chemicals to remove dirt and stains, as part of a painstaking process that takes around two hours. It's the first step in a comprehensive car detailing procedure that's designed to deliver the best possible results.
Paint correction
Paint correction is the second stage and in many cases, it's the most important. This is a very customised part of the process, based on your car's existing paintwork, any damage visible after cleaning, and any vinyl wraps or other surface finishes.
During this phase, we will take appropriate steps to remove fine surface scratches and swirl marks from abrasive cleaning in the past. We get your paint back to a full shine, repeating each stage as necessary to get the best results.
Ceramic coatings
A ceramic coating is a good addition to any vehicle detailing. It's a protective clear coat that bonds to the paintwork or vinyl, similar to varnishing a piece of wood.
Once it's fully bonded, a ceramic coating can only be removed by abrasion, so your paintwork is well protected against a variety of risks, including harmful chemicals.
Interior
We don't neglect the interior of your car. As well as cleaning, polishing and protecting the exterior panels, we treat each interior surface in its own way.
This depends on the different materials used in your vehicle. Whether it's fabric upholstery or leather seats, PVC dashboard or real wood inlay, we'll choose the best products to clean and protect every surface, down to the smallest detail.
Should I use a professional car detailing service?
It's a good idea to take advantage of a professional car detailing service. You gain access to experience and expertise, as well as a wide variety of different premium car cleaning products.
While you can buy some of these yourself – and we supply a range of car detailing products – it's expensive to buy all the different products that will be used during a professional car detailing.
Instead, it's sensible to get your car detailed by the experts, and then buy a few detailing products that you can use to maintain the high standard of finish for as long as possible.
Where can I find high-quality vehicle detailing products?
WRPD INC. is our online store for high-quality vehicle detailing products, vehicle wrapping films and accessories, and the VWC Origin Collection of T-shirts.
Look under Car Care Products for all our Gyeon cleaners, detailing products and protective bathes.
Understanding vehicle detailing packages
To give you plenty of choice, we offer a number of different vehicle detailing packages to achieve the result you want.
You can choose the vehicle detailing package you want. In general, Protection Detail is for newer cars, Correctional Detail is for older cars, and Enhancement Detail is the best way to prepare a vehicle for maximum resale value.
Protection detail
Protection detail is mainly for new cars. It takes your vehicle, removes any minor surface dirt and adds protective coatings to keep the factory paintwork looking as-new for as long as possible.
This process is cost-effective and preserves production line value. Different elements of the vehicle get special attention, such as wheel arches and alloys. We can include premium ceramic coatings, alloy wheel and glass coatings by request.
Enhancement detail
Enhancement detail restores your vehicle's exterior to the fullest shine possible. Any scratches and swirls in the clear coat are removed, and ceramic coatings added to protect the paintwork for the future.
This is a popular option when planning to sell a car, as it can bring the existing paintwork back to its best, in order to achieve the maximum possible resale value.
Correctional detail
Correctional detail is aimed at older cars, or those that have experienced damage to the paintwork due to cleaning with the wrong products, exposure to dirty or dusty road conditions, or any other light abrasion to the exterior.
The correctional detail process involves a painstaking deep clean of exterior dirt, followed by a forensic examination under UV light to identify any areas of damage to the paintwork. We then carry out our multi-stage polishing which can eliminate over 90% of noticeable damage after a solid 20+ hours of work.
Final thoughts
Vehicle detailing serves many different purposes. It's a way to protect the paintwork of a brand new car, or to protect a newly installed vinyl wrap.
It can restore the original shine to damaged paintwork on older cars. It can give vehicles a factory shine to increase resale value, if you're thinking of selling your car in the near future.
Whatever the vehicle and whatever the reason why you want it to receive our five-star treatment, you can rest assured that our expert team will give it their full attention, with no corners cut in the pursuit of the best possible finish for the exterior and interior alike.
Combined with our professional car detailing products available to buy, you can continue the care at home so your pride and joy retains its shine for as long as possible before you bring it back for the VIP treatment all over again.
If you have any questions or you'd like to book a vehicle detailing service for your car, please contact the Vehicle Wrapping Centre Leeds and we'll be happy to schedule you in at the earliest available opportunity.